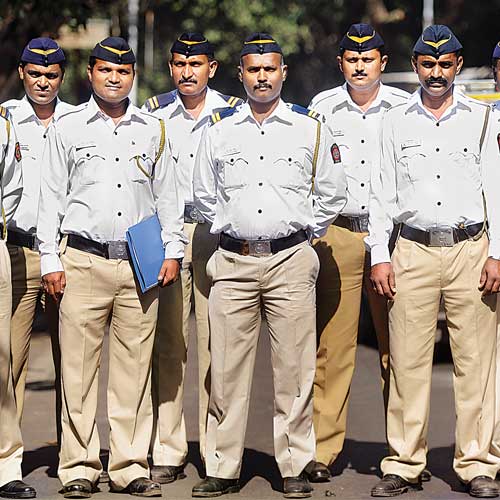 On November 29 this year, when former Indian cricketer Vinod Kambli suffered chest pain while driving, it was a traffic policeman who spotted him and rushed him to the hospital with the help of other personnel. However, Kambli wasn't the only one whom the traffic police went out of the way to help.
They have helped two others who similarly needed to be taken to the hospital after having chest trouble, apart from helping nab 23 people involved in cases ranging from chain snatching to murder.
One such incident goes back to January 14, 2013, when 36-year-old traffic constable Navnath Ghate was manning the Bharatmata Theatre Junction.
"An unknown person suddenly ran to me and said someone had been stabbed outside the movie ticket booking counter at the theatre. Almost immediately, I spotted a man with a knife fleeing the theatre. I started chasing him, and informed the local police about him. A colleague, constable Lahu Sable, and I caught the man and handed him over to the Bhoiwada police," said Ghate.
It turned out that the man, Ashok Chavan, had stabbed a 21-year-old boy after the latter objected when Chavan disrupted the queue to get a movie ticket.
However, Contable Ghate was not done playing the Good Samaritan. On August 31, he, along with his colleague Durgesh Parate (33), chased down and nabbed a chain snatcher at the Parel TT Junction.
The traffic police seem exceptionally adept and nabbing chain and bag snatchers, with seven chain snatchers and one bag snatcher being caught by them.
Thirty-three-year-old Sunita Nair will always be grateful to constable Pravin Waghmare (29), who works with the Mahim traffic division for helping catch the man who snatched her bag from a taxi she was travelling in on December 9.
"I chased the accused and recovered a gold chain worth Rs90,000 from him and returned it to Nair. She thanked me and said she appreciated what I did. After having joined the force, this was the first time I had received appreciation for my work from a citizen," said Waghmare.
These heroes from the traffic police department say that bringing a smile on the faces of people is much more satisfactory than discharging their normal duties.
"Our traffic policemen have been doing a lot of work apart from their regular duties. At least 10 traffic policemen have been given cash rewards and appreciation notes from the traffic police department for such exemplary work," said joint commissioner of police (traffic), Vivek Phansalkar.
Mumbai's traffic police are also often on the receiving end. To read click here