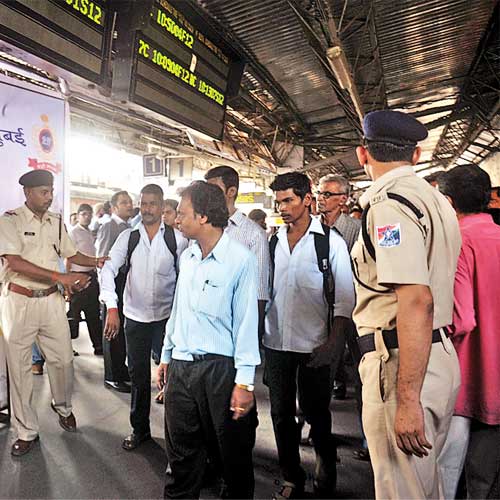 The Mumbai government railway police (GRP) officials have been playing Santa Claus throughout the year. Till November 30, they rescued 1,650 minors, including 465 girls, who ran away from their homes due to various reasons, including failure in exams. Statistics released by the Mumbai GRP commissionerate reveal that GRP officials were even successful in reuniting 1,493 minors with their parents.
Rajendra Pal, senior police inspector of the Mumbai GRP, told dna that on an average, five children are found abandoned on railway premises in the city every day. This year, till November 30, as many as 1,650 children —many of whom had run away from home out of frustration — landed up at one of the 17 railway police stations in Mumbai. Of these, there were 1,145 boys and 465 girls.
More than 50 per cent of these children were found in just six stations — Vashi (229), Kalyan (188), Kurla (137), Mumbai Central (136), CST (126) and Thane (123).
"The GRP played a key role in their safe journey back home," Pal told dna. He said of the 1,650 children, 1,067 — 798 boys and 269 girls — were immediately handed over to their parents. Four hundred and twenty-six children (250 boys and 176 girls) were united with their parents through courts whereas 157 (97 boys and 60 girls) are still in the observation home, Pal said.
In 2012, the GRP rescued 1,419 children (966 boys and 453 girls) and successfully handed over 1,263 of them to their parents.
Most of these children are in the 10-15 age group. They run away from homes and come to Mumbai — the city of dreams — to make a name for themselves in Bollywood. Some of them find this as an escape route from poverty and abusive parents. A lot of children come here after they fail in their examinations or when they experience domestic strife, said a GRP officer.
"At such a tender age, the children are unable to understand what's right and wrong for them. It is difficult to stop them from going on the wrong track. But once we come across such children, we try to counsel them and send them back home," he said.
The officer said GRP has a special cell comprising a police officer, two male and two female cops, at every police station especially to look into cases of abandoned children. The cops first quiz the child and try to trace the parents after asking about their address. If this does not work, the police produce the child before the Child Welfare Committee and s/he is sent to a shelter home, Pal said.

The missing link
1650 kids rescued by city GRP till November 30,2013

1263 handed over to parents in 2012

10-15 age group of children who run from their homes for many reasons
1493 reunited with their parents

1419 kids rescued in 2012
50% of children found at 6 stations — CST, Mumbai Central, Thane, Vashi, Kalyan and Kurla