Number of people booked for employing kids down to 129 from last year's 284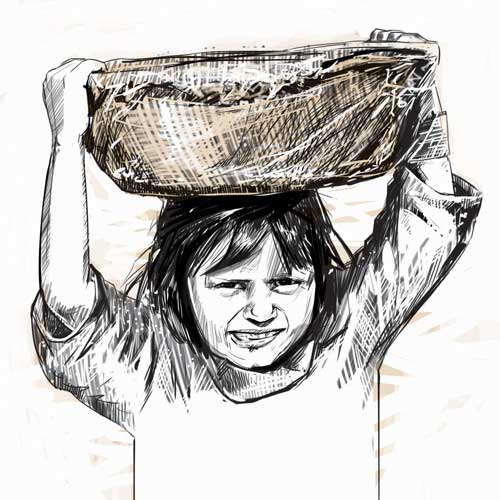 They are a common sight in the city. Children selling stuff at traffic junctions and locals, cleaning and serving in restaurants, working in hazardous condition in factories and even mopping and doing dishes in homes.
Children below the age of 18 sweat it out for meagre earnings when they should be going to school. Child labour has been a problem plaguing the city for decades now.
The good news is that the number of children employed in several establishments has reduced over the years, if not completely eradicated.
According to the latest statistics by The Juvenile Aid Protection Unit (JAPU) of the Mumbai police, the rate of children rescued in the city this year has reduced by more than 50% this year. While this year, the unit has rescued about 250 children, last year the number was 538.
Feroz Patel, assistant commissioner of police, Social Service Branch, said: "We are associated with more than 15 NGOs. We conduct regular meetings with them and have volunteers spread across areas that are vulnerable. We conduct raids based on information from locals, NGOs and other organisations. Awareness has increased and the agents and people employing them are more cautious today."
Although the number of children rescued doesn't necessarily mean that the number of kids employed has decreased, NGOs working to eradicate child labour feel that there has been a decrease.
Priti Patkar, founder of NGO Prerana, said: "Today, in pockets like Dharavi and Madanpura, the numbers have clearly reduced. Crackdowns have intensified. It is also because of effort by NGOs and the police. People have realised that the risk factor in employing children is high."
The number of people employing children, too, has come down to 129 this year from last year's 284. The police attribute this to its strict vigilance, awareness programmes and its association with NGOs for faster crackdowns. The NGOs, however, feel that although raids have increased, there are still thousands of children employed in various unorganised sectors which go unreported.
Patel said rescuing kids doing domestic chores is still a challenge. "We don't often get information about those who work in homes. Usually, they are given education and medical aid by families who hire them. We're trying to enhance our reach to crackdown on domestic child labour," he added.
The Child Welfare Committee (CWC) said vigilance has increased. "Those who employ child labourers have joined other businesses due to crackdowns. But still not every case is reported," said Vijaya Murthy, chairperson of CWC.
"We are also educating families of these children. Sometimes children are not paid and have to work in hazardous atmosphere. We are working to not only curb the menace but also to ensure that children's families are not exploited by agents or industry owners," she added.
Pratham is among the many NGOs that have been working with the police and labour department in rescuing child labourers. Navnath Kamble, the NGO's rescue programme manager, said they have been appealing for amendments in child labour law. "According to Juvenile Justice Act, the accused is jailed only for three months. It should be increased to three years and fine levied as per Child Labour Act be increased," said Kamble. He added that in places where the NGO would rescue 70 to 80 children in the past, have only five to 10 children to be rescued.
Farida Lambay, co-founder of Pratham, added that although the menace has reduced, proper rehabilitation of such children continues to be a challenge. "The children's home that keeps the children after rescue need to be properly equipped. More often, they are sent back to parents who send them back to work. Once they are rescued, measures should be taken to ensure they are given proper education," added Lambay.
Although organised child labour is diminishing, begging is still rampant. Vijay Kharat, coordinator of NGO Yuva, said: "There should be better inter-state coordination so that rescue and rehabilitation efforts are streamlined. The state education department, labour department and child welfare commission should work together so that more cases in discreet parts are brought to light."
Tainted areas
Some of the pockets in the city where child labour has been rampant are Dharavi, Govandi, Byculla, Madanpura, Nagpada and Malwani. Children are employed in hotels, bakeries and factories manufacturing textiles, leather and even fireworks. In the past, NGOs would rescue 70 to 80 children from these areas, but now have only five to 10 children to be rescued.