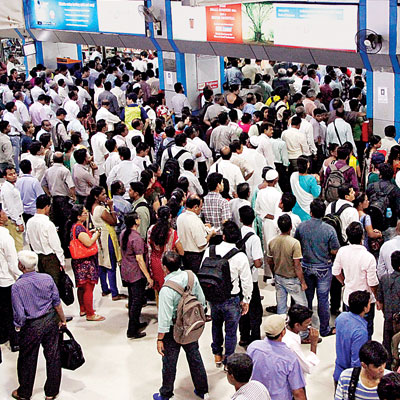 The numbing rail fare hike that has made season pass costs go through the roof is a double whammy for Mumbaikars. Firstly, it penalises them for buying season passes — something the railways encourages as it gives them revenue in bulk in advance — and secondly, because the predominance of season passes in Mumbai's suburban system is thanks to the shortcomings of the railways itself.
Officials, many of whom agreed that the fare hike is indeed very harsh on Mumbai, said over the past couple of years the ticket dispensation system in the city has taken a beating. "Look at Western Railway. In one go it decommissioned 115 automated ticket vending machines (ATVMs) out of the 195 it had. This was at a time when passenger count on WR had crossed 35 lakh. The result was serpentine queues at ticket windows," said the official.
Plan to get 490 new ATVMs has moved slowly, said WR officials, though it is in the final stages now.
Central Railway fares slightly better with around 45% of all tickets being dispensed from sources apart from a ticket window, such as ATVMs and Jan Sadharan Ticket Booking Service which are run from small shops close to railway stations. However, with these non-conventional sources not being able to dispense season tickets, the preference for pass continues.
It is a vicious circle, agreed officials. People buy season passes because standing for tickets on a daily basis is tough. As the passes increase in the system, the losses mount because passes offer commuter unlimited rides but charge him/her for just 15 journeys. The fare hike has increased the number of charged rides to 30.
"However, season passes also help the railways to do away with ticket windows and that cuts down on the cost of employing a ticket clerk. With over 70% commuters in Mumbai using passes, the crowd at ticket counters has remained in control for the past so many years. It is unfortunate that now this habit of people to save time is being penalised. Imagine the millions of man-hours a Mumbaikar has saved by spending a lump sum and buying pass," said an official.
A vicious circle
Commuter count increases to over 41 lakh on CR and 35 lakh on WR
Cost-cutting means CR and WR progressively shut down ticketing windows, thus increasing the queue
Mumbai's "time is money" habit means it is the only city with a season pass penetration of over 70%
As the number of people opting for pass increases, the losses mount as the second class season pass, actually, charges only for 15 second-class single journey rides, but enables one to take unlimited
As losses mount, the railways tweaks the formula from 15 charged journeys to 30 and puts first class season pass at four times that of a second class pass
Mumbaikar gets penalised for saving his time and the country precious man-hours
Why Mumbaikars prefer season passes
A ticketing survey done over several months last year showed that CR lagged behind WR as far as ticketing windows were concerned. Among the worst-case studies was CR's Kurla and WR's Borivli. With around the same number of people using the two stations — 3.8 lakh for Kurla and 3.92 for Borivli — the number of functional ticket windows at Kurla was nine, while at Borivli it was 30. Similar was the case with Dadar, with CR's side having just seven windows against WR's 20
Railways Vision 2020 document
While the railways' vision 2020 document speaks about all commuters being able to get a ticket within five minutes of reaching a station, authorities believe that goal will take several years to achieve. The current average at almost all stations is anything between 15 minutes and 40 minutes