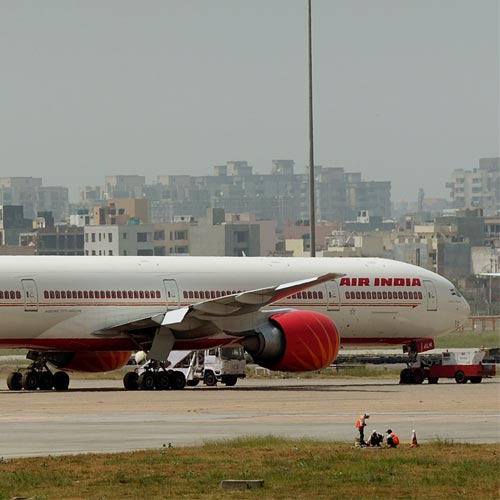 Air India Boeing 777 pilots are most happy with the Jet-Etihad deal. For, they are suddenly in demand.
Last week, Etihad Airways emailed Air India pilots individually, promising them a red-carpet welcome with tempting salaries and compensations that are hard to refuse. AI pilots who have been complaining of salary cuts for the past year or so are more than glad to accept the offer.
"Etihad Airways invited us through personalised emails. The vacancies are for Indian pilot licence holders with experience of flying Boeing 777 aircraft," a senior AI pilot said.
Only Air India and Jet Airways so far operate Boeing 777 aircraft in the country. At least 10 AI pilots have confirmed that they would join the Etihad Airways. They will be based in Abu Dhabi.
Etihad airways needs 50-70 pilots for ultra-long haul flights, specially to the US, Canada and other places as it will be adding over seven Boeing 777 aircraft by April next year.
Etihad has offered a monthly compensation of nearly Rs10 lakh (tax free) to a commander level pilot. In Air India, the package is Rs5 lakh (taxable).
"Moreover, the compensation will increase by about 2% annually compared to no increments seen over the past several years with our present employer," another AI pilot said.
AI pilots claim their take home salaries have gone down by 25% after the management decided to cut incentives.
Jet and Etihad spokespersons did not respond to emails sent by dna.
The Jet-Etihad deal cleared the final hurdle last week after the Competition Commission of India (CCI) said the deal would not affect the competition. As per the agreement, Gulf-based cash-rich Etihad has 24% stake in Jet Airways. The deal materialised after India opened its aviation sector to 49% foreign direct investment last year.
How it will affect Air India? Services will be hit as the airline will have fewer pilots on the rolls.
Already several pilots have quit to join various airlines in the Gulf, which offer them better pay and work conditions.
In July last year, Air India pilots went on a 58-day strike to protest against the wrong policies of the management in connection with their career progression.
FDI in aviation
The Etihad Airways investment marked the first infusion of FDI by a foreign airline in the Indian aviation segment.
Though Jet Airways had initially opposed introducing FDI in the aviation sector, it went ahead and clinched the deal with Etihad.
The deal also includes a $150 million soft loan from Etihad Airways and the selling of three slots belonging to Jet Airways at the Heathrow airport in the UK.
The total deal amounts to Rs4,624 crore as per today's market rate. The equity infusion has brought relief to Jet Airways which has been battling losses. In the September quarter, the airline declared a Rs891 crore quarterly loss.