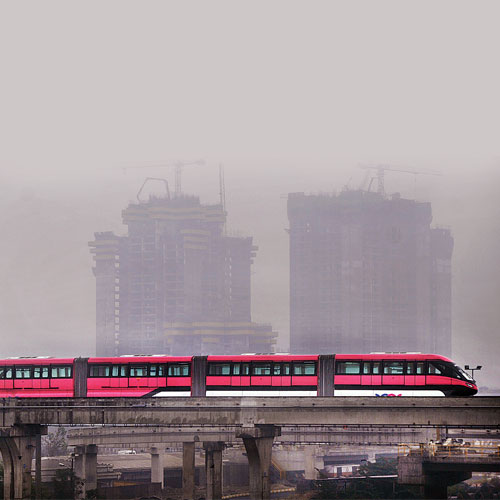 India's first monorail, which will run between Wadala and Chembur, will be inaugurated at the end of this month, most likely on January 29.
A senior official from the Mumbai Metropolitan Region Development Authority (MMRDA) informed dna that the inauguration ceremony will be held at Gandhi Maindan in Chembur.
The Chembur monorail station is walking distance from the venue zeroed down for the function. The official added that "someone from New Delhi" will be attending the inauguration ceremony.
Gandhi Maidan comes under the jurisdiction of the Brihanmumbai Municipal Corporation (BMC).
"We have been informed by the MMRDA to keep Gandhi Maidan and its surrounding areas ready by January 28 for prime minister Dr Manmohan Singh's visit, which is likely on January 29," said a civic official attached with the local ward office, requesting anonymity.
Confirming this, another MMRDA official said, "The opening ceremony will be held this month itself."
Meanwhile, chief minister Prithviraj Chavan, who on Tuesday left for the World Economic Forum in Davos, is expected to return only on January 25.
The notification on operation and maintenance of the monorail is yet to be approved and issued by Chavan, along with confirmation of dates with political dignitaries in New Delhi.
"The coordination to invite the chief guest from the central government is going on at the chief minister's level, and no final date has been fixed yet," said the MMRDA official. Therefore, he added, it would have become difficult to hold the event on Republic Day, which is why it has been rescheduled to the end of January.
This 8.8-km corridor between Wadala and Chembur will initially be operated only for five hours a day, with operational timings being increased gradually. To begin with, the frequency will be nine minutes and this will eventually be increased to four minutes. The authorities are anticipating a rush during the first couple of weeks following the monorail's inauguration, with Mumbaikars wanting to experience the ride.
Monorail fact sheet
Phase I: Chembur – Wadala, seven stations
Phase II: Wadala – Jacob Circle, 11 stations (excluding Wadala station)
Deadlines: Phase I: December 2010, May 2011, November 2011, May 2012, December 2012, June 2013, August 2013, September 2013, October 2013, December 2013, January 2014
Phase II: May 2011, December 2011, May 2012, December 2012, December 2013, June 2014, December 2014, March 2015