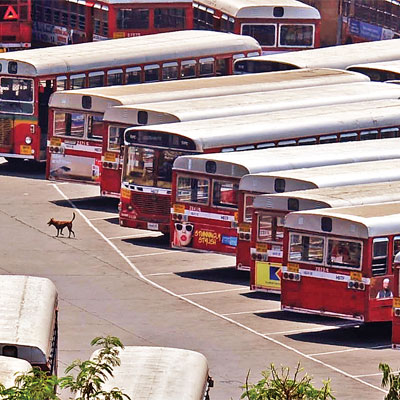 Brihanmumbai Electric Supply and Transport Undertaking's (BEST) real time bus movement information service over mobile is almost half way through.
Out of it's fleet of 4,336 buses, an average of 10 per cent is at the depots daily for maintenance purpose. Thus, close to 3,900 buses run in and around Mumbai daily. Of these around 1,700 buses have been fitted with Passenger Information System devices in order to monitor it's movement online via smart phones and computers as well as by sending SMS.
"Around 1,700 buses have been installed with PIS devices. On an average 100 buses are being fitted with the device every three weeks. The project is progressing well," said Om Prakash Gupta, general manager of BEST.
At the moment, air-conditioned as well as corridor bus routes have been covered with the service. Even the two screens inside the buses (used to air advertisements) display name of the next bus stop.
The system is gradually picking up among the commuters by installing the application called 'BEST TV'.
There has even been marginal drop in daily ridership in BEST buses, one of the reasons behind it is impatient commuters not waiting for the public buses to arrive and opting for share-a-taxi or share-an-auto.
The BEST administration is hoping that once this service is installed in its entire fleet, passengers will start using the service and thereby help in increasing the daily ridership.
This project had got cleared by the BEST authorities back in June 2012. In the first phase, i.e. by August 2012, the fleet of around 280 air-conditioned buses were covered with this facility. This attempt is also a move by the officials to upgrade bus operational facilities in par with international standards.