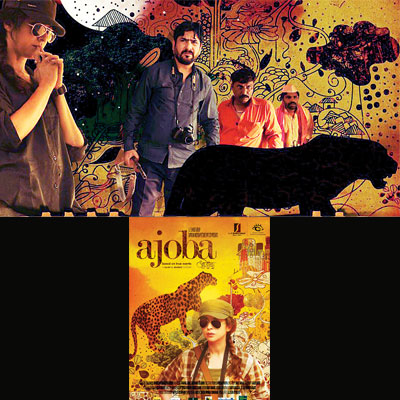 It's a story of a grandfather who walked 120km in 29 days by crossing railway tracks, busy highways, human settlements, hills, river, etc. But this grandfather is a leopard named 'Ajoba' (grandfather in Marathi).
From May 9 this year, Ajoba will make people understand that leopards do not harm humans, but instead they adapt to their surroundings. And he will do that on the big screen. Noted Marathi filmmaker Sujay Dahake is directing the movie titled Ajoba, which is currently in the post-production stage.
In April 2009, a leopard fell in a well in Ahmedabad district's Takli Dokeshwar village. As is the practice of the forest department, it was rescued and set free in the Malshej Ghat area, but only after researcher Vidya Athreya collared him with a GPS transmitter. However, the animal died in a road accident on Ghodbunder Road in 2011.
Bollywood actress Urmila Matondkar portrays Athreya, who keeps a tab on the animal's movement till its death.
Dahake is showing the big cat's share of adventure between 2009 and 2011. It crossed the Sahyadris, Kasara railway station, state highways, towns, villages, etc, to reach Vasai Industrial Estate. It also swam in the Ulhas river to reach Sanjay Gandhi National Park.
According to Athreya, had the collar to track him not been there, this remarkable journey would never have come out, apart from the most important fact of how this animal didn't attack a single person on the 120-km-long route. Ajoba aims to dismiss myths on the human-animal conflict that Mumbai and it's surrounding areas has been witnessing for over two years now.
"Making a movie based on an animal is a different genre, not only in Marathi cinema but also in Bollywood... such a movie hasn't been made for decades now," said Dahake. Filming and exhibiting leopards wasn't easy for the filmmaker as the law doesn't permit exhibiting leopard through videos. They had to approach the authorities and explain how the movie will help in conservation and pass a message to the society on leopards' behaviour.
The movie will be screened in 250 cinema halls in Maharashtra, with around 500 shows daily, and, depending on the response, it may be released outside the state at a later stage.