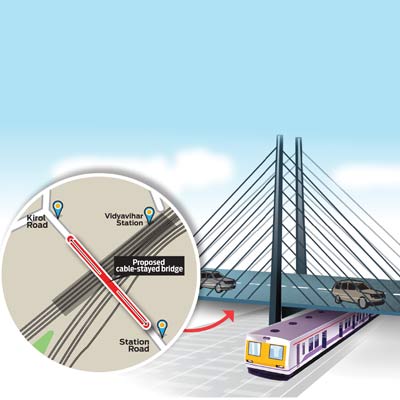 Vidyavihar could become the first spot in the city to get a cable-stayed road bridge that will run over the Central Railway line, connecting the east and the west.
Engineers of the Central Railway and the Brihanmumbai Municipal Corporation have met a few times over the past few days to discuss the proposal and the design of the structure that would be similar to the iconic Bandra-Worli Sea Link.
The proposal was made sometime back in view of the increased vehicular traffic in the Kurla-Ghatkopar area in the past few years.
Tilaknagar, in the east, has become a concrete jungle, that is expanding with newer residential constructions. Whereas in the west, a number of malls, some business parks and plush residential colonies have come up recently resulting in congestion.
The bridge would run from the Station Road in Vidyavihar (East) to Kirol Road on the West. These roads are 60 feet wide which is adequate to build an elevated road.
However, it is the width of the stretch over the railway lines that is the bigger issue. There are a total eleven lines, four of them used for suburban services and two for outstation trains leaving and arriving at the nearby Kurla terminus. The others are for trains parked in the yard and one for shuttling locomotives for the outstation trains.
There is a foot overbridge already in existence that runs over the lines, connecting the east and the west.
The distance across the stretch is about 200 metres, but there is very little space in between to put up too many pillars. This led the engineers to consider a cable-stayed design for the road bridge which would have a maximum of five pillars.
"The problem is that making a conventional bridge with many supporting pillars is not possible due to the multiplicity of tracks. There is little space in between and none of them can be shifted as this would disrupt the long-distance services at Kurla Terminus," said a railway official.
The engineers working on the road bridge proposal are from the construction department of the Central Railway and the bridges department of the civic body. There is no schedule yet for the project.
A cable-stayed bridge has one or very few towers, from which cables support the bridge deck. There are two main designs of cable-stayed bridges – harp and fan.
The cable-stayed portion of the Bandra-Worli Sea Link is 600 metres long. A centre tower supports the bridge with four planes of cable stay in a semi-harp arrangement. There are a total 264 cable stays in the sea link structure.