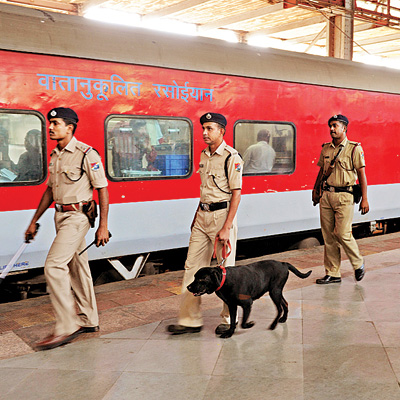 After the spate of robberies, the premium Mumbai-Delhi Rajdhani is all set to become the first train in the country to have close-circuit television cameras (CCTV) systems installed in it. The Western Railway, which owns the train, is planning to set up CCTVs in some coaches to ensure the train does not become a free-for-all for thieves.
Where would the CCTVs be set up?
Speaking to dna, Shailendra Kumar, divisional railway manager, WR, confirmed the move. "We are still tying up the formalities. CCTVs could be installed in some coaches on a random basis or we will go in for an open tender. It will be set up in the aisle of some coaches to give a clear view of the people moving in the train," said Kumar.
How many coaches?
According to WR officials, the Rajdhani and the Mumbai-Delhi August Kranti rakes, which have identical compositions, could have some of their 2AC coaches fitted with CCTV cameras. Initial estimates show that if CCTVs have to be installed in all 2AC coaches of both the trains, it will cover in all 20 coaches (five coaches each in four rakes). "That could take the cost high enough for it to be given out on a tender as per railway rules," said a senior official.
Why 2AC coupes?
The railways believe that unlike the 1ac- which has closed door coupes, and the 3AC, where all curtains were removed, the 2AC is vulnerable to thefts as the curtains in them make it easier for thieves.
Past failed attempts
The Indian Railway has in the past tried installing CCTVs once in the Mumbai-Ahmedabad Shatabdi in 2010 but the move didn't get much of a backing from the passengers, who thought that cameras would be an invasion of privacy, especially for women.
This time, officials believe, passenger reactions would be far more conducive, especially in the backdrop of the Rajdhani robberies. "Plus with the CCTV in the aisle, there will be no intrusion of cameras into the sitting and sleeping areas of the coach," said an official.
What are the loopholes?
The railways are on the backfoot over the robberies since the Rajdhani traditionally has never been escorted by RPF or railway police personnel. The train at any given point of time has some 50-60 staff including ticket-checkers, train maintenance, catering and cleaning staff.
However, officials agreed, that with several of the functions of the trains now being given to private contracting firms, there was almost no background check of the employees of these firms.
What exactly happened?
Last week on three consecutive days, thieves struck in two 2AC coaches- A3 and A4- robbing six passengers of their handbags. Among those who got robbed was the wife of CR general manager, one of the railway's topmost officials.