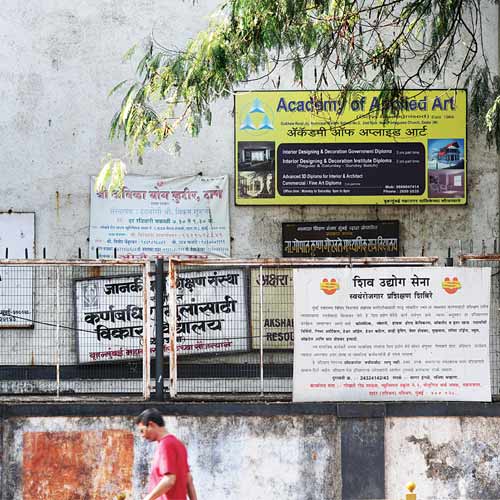 More than nine months after it served notices on 98 'non-educational' organisations operating from 628 classrooms in civic-run schools, the Brihanmumbai Municipal Corporation is clueless about freeing the space. Worse, the civic body needs nearly 400 additional classrooms for its students in the next academic year.
A myriad of organisations, including union offices, yoga institutes, NGOs and banks, continue to occupy space in municipal schools despite expiry of their annual lease on March 31. The BMC had asked them to move out in April.
A top BMC education official told dna, "Only four of the 628 classrooms have been vacated so far. We are seeking details from all wards in this regard." The official said all these four organisations were from zone 2, which includes Worli, Dadar, Matunga, Mahim and Wadala – the civic administration has divided the city into seven zone.
Currently, over 3.8 lakh students study in more than 1,074 primary schools. The number will go up by 25,000 in the coming academic year as Std 8 has now been included in elementary education. At present, only 20 new classrooms are under construction for Std 8.
Many of these non-educational organisations have been functioning from civic school premises since decades by paying a nominal rent. Over 70 per cent of the space have been occupied by several workers unions, mehandi-dance-tailoring classes, store rooms, NGOs like Praja, Pratham, private offices, government offices, printing press, religious groups, satsang-yoga classes etc (dna has a copy of the list).
While some schools have 3-5 organisations operating from the premises, some organisations occupy classrooms in many schools, some others operate few hours a day. Over 86 classrooms are being used by NGOs related to AIDS, cancer, special children and de-addiction centres etc.
Ramesh Joshi, president of municipal schools teachers association said, "The notices have been given to only those organisations which run non-educational activities. No action is intended on private schools and coaching classes which operate from civic school premises. BMC puts these profiteering centres under 'educational' activity".
Joshi said these activities undermine the sanctity of the schools and affecting the credibility of civic education. "This is a deliberate attempt of the officials, politicians and so-called NGOs to kill the public education system."
Parents say children get distracted because of multiple activities going around. They fear this will affect the performances of the students.
This show of inefficiency by BMC's education department comes in the wake of a study, revealing that poor quality of education in civic schools forces parents to opt for private institutes. Only 17 per cent of families send their wards to BMC schools, said the study.
Sunil Dhamne, deputy municipal commissioner (education) confirmed that four classrooms have been vacated so far. He said, "We are still seeking information from all the wards, hence we are unable to tell exactly how many of them have vacated."
On their strategy to reclaim the classrooms, Dhamne said, "There are some NGOs like Hellen Keller and Alcoholic Anonymous which are doing good work. Also, there are some agencies which prepare materials for some schools. We are contemplating if we can put them under educational activities." Dhamne added, "Many children have been going to nearby aided schools. Besides, we are is readying 20 classrooms."
(With inputs from Vinamrata Borwankar)