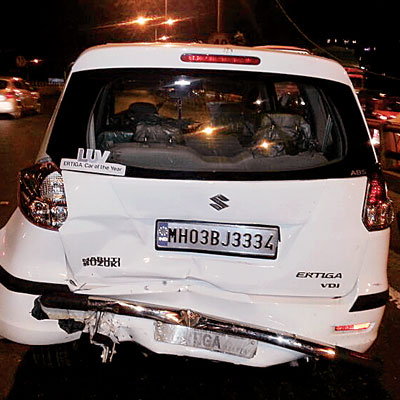 Two days after chief minister Prithviraj Chavan's car met with an accident in Malad (East), the other motorist involved in the incident has refuted the police's claims.
Speaking to dna, Shehzad Chaudhary, 26, owner of the Maruti Ertiga vehicle, has said that it was the CM's car that hit his vehicle from behind. The police claim stated that it was the pilot's car that had hit his vehicle. Chaudhary also claimed that overspeeding by the CM's car caused the accident as opposed to the traffic snarl claimed by the police.
The police, however, said that the complainant is trying to mislead for compensation. Chaudhary, who was sitting in the passenger seat, said: "I was on my way to Ghodbunder. It was the CM's car that hit my car.
The pilot cars were behind his car. There was no pilot car behind me. I did not apply sudden brakes; I was going slow but the CM's car was moving fast and it rammed me from behind."
After the accident, the CM and his entourage of two other people were immediately taken into another car.
According to the police, however, the CM's car allegedly hit an accompanying pilot car from behind after the Ertiga that was ahead of the pilot car suddenly stopped on the Western Express Highway.
As per the complainant, despite the chief minister's car causing severe damage to the rear of his car and causing minor injuries to the female driver, the chief minister or his entourage did not bother to help them or hasn't offered to pay for the damages.
"The driver of the CM's car was let off immediately. I was brought for questioning and asked to pay up to get bail. I have demanded compensation as it was not an accident caused by traffic snarl and was clearly an accident due to negligence by the driver of the CM's car. Unless the police registers an FIR, I will not get my compensation. The police is not doing so as it involves the CM and his people."
The police said that it was a minor accident caused by the snarl. Jaywant Mane, senior PI of Dindoshi police, said, "We have taken the statements of the complainant. Prima facie, traffic snarl is the cause. We have not registered an FIR as there were no casualties. It was the pilot car that hit the Ertiga and the CM's car hit the pilot car from behind. We will be conducting an inquiry to verify the complainant's claims."