It's a show of strength as sena workers gather in thousands to mark Bal thackeray's first death anniversary.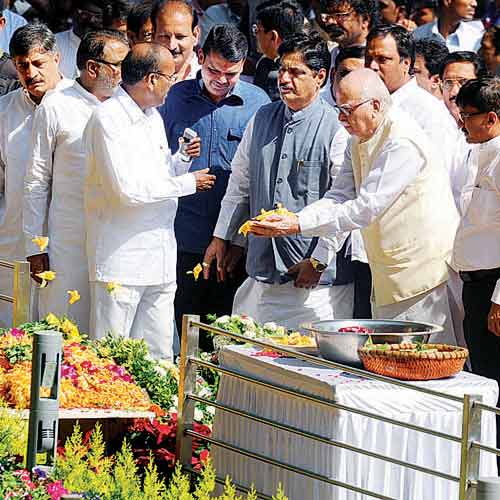 A year after its party chief's death, the Shiv Sena may find itself at the risk of playing second fiddle to the BJP under its prime ministerial nominee Narendra Modi. In the alliance forged in 1989, the Shiv Sena — with a much wider social base than the BJP — has always played the dominant role.
BJP leaders admit that the Sena's presence enforces a natural restriction on the socio-political expansion of the party, which has an urban, middle-class image. "Till now, the Sena had been dictating terms. The power relations may change now. The BJP is strengthening itself at the national level due to Modi. But, the Sena is losing ground," said a Sena legislator.
Modi, who addressed a rally in Bangalore on Sunday, skipped the Mumbai event. The Sena legislator admitted that under the prevailing circumstances, the BJP may manage to get more seats than the Sena. Unlike the mild-mannered Shiv Sena president Uddhav Thackeray, Modi is seen as an aggressive Hindutva hardliner.
The BJP has replaced the Sena as the main opposition in the state assembly with 47 seats as against the latter's 45, excluding the independents.
The Sena leader said the adulation for Modi among the urban youth, educated and the middle class could undercut the influence of the Raj Thackeray-led MNS, which had emerged as a spoiler in the 2009 Lok Sabha and assembly polls. The Sena allied with the BJP after a previous alliance in the 1984 Lok Sabha proved unsuccessful. "Earlier, the Shiv Sena was stronger than the BJP, now they are on the same level," said a Sena activist. He stressed the need for the organisation to be strengthened, especially in rural areas.
"The so-called resurgence of the BJP is not based on ideology or organisational expansion. It is because of Modi's leadership," said professor Surendra Jondhale of the University of Mumbai's department of civics and politics, , noting that the BJP was trying to encash Modi's appeal in Maharashtra to make up for the lack of charismatic leaders. He said the Sena had been on the back-foot after Thackeray Sr's death and that factionalism, lack of an electoral or political agenda and possibility of a split in favour of the MNS were responsible for its weakening. "Post-polls, the Sena may have to play the role of a junior partner," he added.