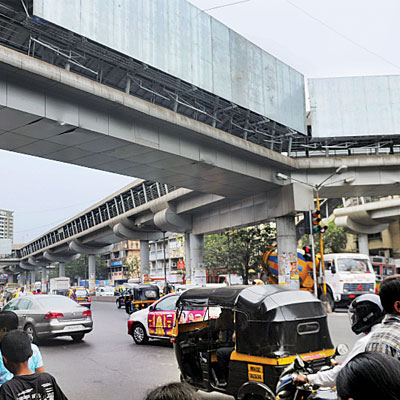 The Mumbai Metropolitan Region Development Authority (MMRDA) has collected just over Rs 1.26 crore as penalties from the infrastructure projects worth thousands of crore it implemented for the last few years. However, the agency has maintained silence over the details of the irregularities.
The information was provided by the development authority in response to an application under the Right to Information Act. The body had set up a vigilance department only in August 2010, when several of the projects it was executing were half done. The total worth of the infrastructure project being implemented and completed exceeds Rs 11,000 crore.
Nearly 17 of the skywalks erected in the Mumbai Metropolitan Region were ready by August 2010.
"Their reply states that 307 site visits were made by the vigilance department for various projects such as road and flyover construction, Mumbai Urban Infrastructure Project, Extended MUIP, Mumbai Urban Transport Project, skywalks, monorail, Eastern Freeway, Milan Subway, Sahar Elevated Road, Mithi River works, Rehabilitation and Resettlement of Project Affected Persons, etc." said Mansoor Umer Darvesh, an RTI activist.
The first phase of MUTP project had come to a finish by end-2011. Moreover, before 2009, MMRDA's Rehabilitation and Resettlement had drawn anger from Project Affected Persons and there was even an incident of suicide due to alleged irregularities by the department.
Between August 2010 and November 15, 2013, a total of 24 cases of irregularities were registered by the MMRDA. However, when asked to divulge information on these 24 cases, the MMRDA officials were tight lipped.
The RTI reply reads that a sum of Rs 1,26,73,972 was collected as penalties since the inception of the vigilance cell within the development authority.
Despite repeated attempts joint project director, public relation, of MMRDA Dilip Kawathkar did not clarify on the subject.