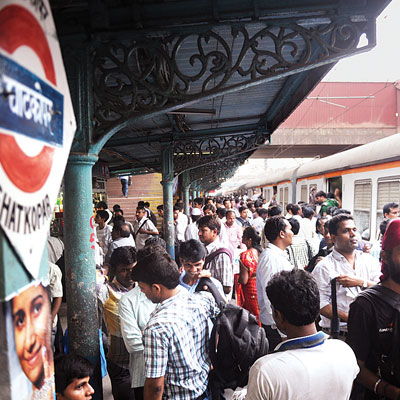 What would be the effect on Ghatkopar station after the Versova-Andheri-Ghatkopar (VAG) Metro system is commissioned? This matter has begun to bother the Central Railway (CR) authorities as the rush of commuters changing over from the Metro to the CR at Ghatkopar could put immense pressure on the infrastructure at the local station.
Last week, top CR officials, including general manager SK Sood and divisional manager Mukesh Nigam, took a ride on the Metro from Versova to Ghatkopar and also inspected the Ghatkopar suburban station.
An estimated 4.65 lakh commuters use Ghatkopar station daily. Ticket sales is an average 35,000. This crowd is next only to the rush at the three busiest junctions of Thane, Dadar and Kurla.
However, unlike the three major junctions which have numerous platforms and terminating lines, Ghatkopar has just four platforms.
The peak traffic on the Metro system is expected to be 45,000 per hour and officials admit that this could cause a problem at Ghatkopar station. (An estimated 11 lakh commuters are expected to use the Metro when it operates at its full capacity.) They anticipate that the Metro would also attract increased road traffic, adding to the congestion at Ghatkopar.
"Currently, a lot of people travelling from Andheri or beyond on the Western Railway to destinations on the CR, change over at Dadar and this has turned the junction into a nightmare for commuters. This crush condition could also happen at Ghatkopar if people take the Metro alternative from Andheri to Ghatkopar," said a senior CR official.
Two years ago, the CR rejected a suggestion made by the Mumbai Metropolitan Region Development Authority (MMRDA) and some other state agencies that Ghatkopar have trains terminating and starting there, to provide connectivity with the Metro.
The reasons given were that Ghatkopar did not have the infrastructure and that the crowds would be unmanageable.
Mukesh Nigam, divisional manager, told dna, "We will have to study the commuter movement pattern on the Metro. The footfall at Ghatkopar station might increase as the Metro stop almost touches the CR station. I also believe that infrastructure, like the 12m wide foot overbridge, would cope with increased traffic for the moment."