Vasai mother accuses principal of JB Ludhani High School of using insensitive words for failing to clear dues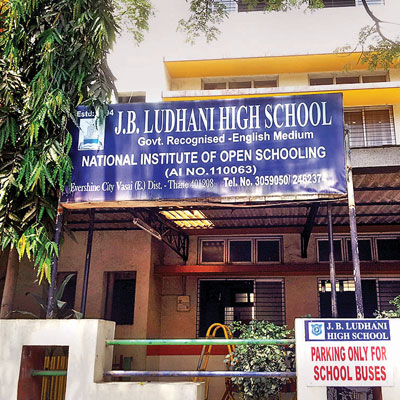 A Vasai couple who have been struggling to pay their children's school fees due to financial constraints were having a tough time after the school denied entry to their two kids six months ago. However, the mother went numb when the principal allegedly told her to 'kill' them if she couldn't afford a 'reputed school'. The family has now complained to the education department.
Evershine City residents Arvind Upadhyay and his wife Neelu are parents of two sons, aged 6 and 10, and an 8-year-old daughter. All three are students of JB Ludhani High School located in the same neighbourhood.
Everything was fine for the Upadhyays until six months ago when Arvind, who was working with a bank, developed health complications. His prolonged illness badly affected their finance.
While Neelu managed to pay her eldest child's fees by mortgaging her jewelleries, she could not clear the dues for the other two kids – the girl who is studying in Std I and the boy in Sr Kg. She said the school then barred them from attending their classes and demanded late fees. However, there was no mention of such action in any document, she alleged.
Neelu said she kept requesting the principal Siny Satheesan to allow her children to attend classes. "I always tried to explain her that we were going through a bad patch and needed some more time. But Satheesan insulted me in front of other parents and teachers on several occasions," said Neelu.
Two weeks ago, Neelu again approached Satheesan with a request to allow the two children to at least take their exams. To this, the principal said, "Kill your kids if you can't pay the fees of a reputed school."
Neelu said she has spoken to education officials about the incident. "We are now not allowed to even meet the principal."
When dna contact principal Satheesan, she said, "I will speak to the parents in this regard and I cannot comment more on this issue."
An education department official from Vasai said, "We have been informed about the incident and we are looking into the matter."