The undergrad engineering students have designed 'THE BAJA CAR' that stood first in Mumbai and 36th all over India in Baja, a competition for engineering students.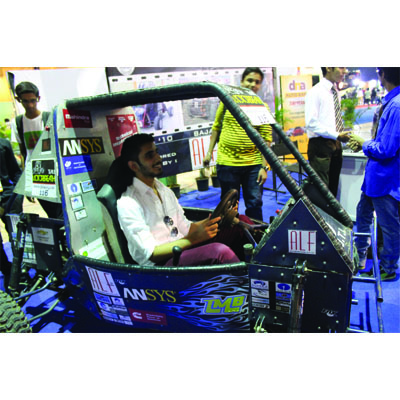 When you enter into the premises of NESCO grounds where the DNA auto expo is being held, you expect to see all types of cars built for different kinds of people. Amidst the BMWs, Ferraris, Audis and Hyundais you see a small car not even half the size of a sedan or a SUV. It's called THE BAJA CAR, which is designed and fabricated by 22 students from Veermata Jijabai Technological Institute (VJTI). The competition is organised by Society of Automotive Enthusiasts (SAE) every year. It has stood first in Mumbai and 36th all over India out of 125 projects that were shortlisted by the judges for main event out of 327 registered teams. The car had to undergo several test drives on 'off road' which means rough roads which are not concrete roads. The car has run about 300-400 kilometres totally, before and during competition.
The competition is held every year only for undergraduate engineering students across India. The main event was held in Pithampur, Indore. Initially, an elimination round was held, where all the teams had to present the design and subsystems of the vehicles. In this round the safety, reliability and efficiency of the car was tested.
"Building eco-friendly cars and improving their efficiency is the need of the hour. I want to make a career in solar energy in order ensure sustainability in auto industry," says Hamzaa Ansari, spokesperson for VJTI racing organisation's team Motor Breath.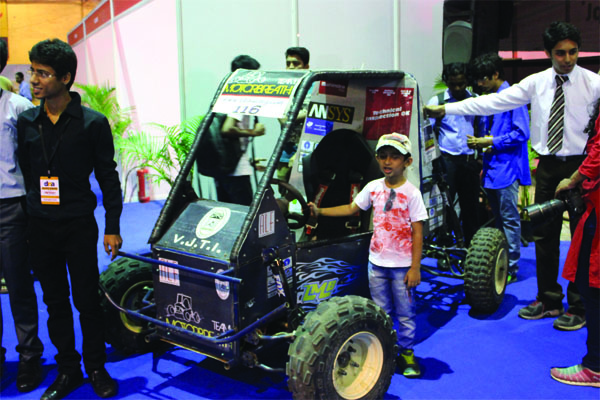 Before actually building the car the students had to design the car by using their imagination. They assumed a driver sitting with engine and vehicle components fitted into proper placesand took dimensions for the chassis i.e. the outer body of the car. Ansari also says that, "The important part was designing and choosing the tyres, suspension system, steering mechanism & transmission. Off road cars need extra grip since they run on roads that are not made of cement hence an off-road tire is required". They made this car in a period of one year three months and it runs on single petroleum engine. At the competition the project was reviewed by people from various technical industries.
Hamzaa also says that, "Our team includes people who are most enthusiastic about finding the mysteries behind the sub-systems and knowing the basics of automobiles. One day we might get to make super cars like the ones that are displayed over here. After all the people who have made these super cars were students at a point of time".
VJTI RACING is currently working on making a Formula Racing car for a national level competition called SUPRA.
For more details on VJTI's projects visit their site: http: www.vjtiracing.com/