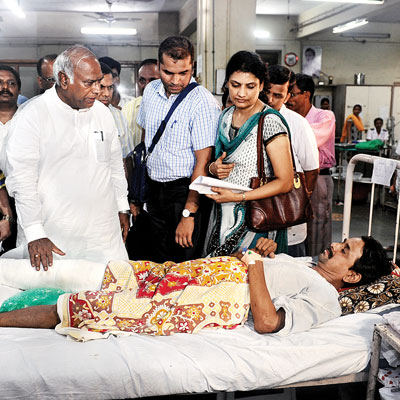 A day after Central Railway saw one of the most devastating accidents on its network, the general consensus among railway officials is that the Diva-Sawantwadi passenger train might have derailed because of the welding between two pieces of the track giving way. The accident, which occurred at around 9.40am on Sunday between Nagothane and Roha stations, some 136 kilometres away from Mumbai, killed 21 and injured 161.
According to officials, prima facie, it looks like the welded joints of the track came off leaving a gap as wide as 10 inches between the two track pieces. "That is enough to derail any train, especially one which is packed to the brim like the Diva-Sawantwadi passenger, which also runs at a fairly high speed on that section," said an official.
All tracks used by the railways are made in Bhilai Steel Plant and are transported to various railway sites in lengths of either 13 metres or 39 metres. These pieces are then welded to make one continuous single track fit for train running.
What has really got the officials worried, however, is that such welding failures have usually been reported during the early morning or late night hours when there is a slight dip in temperature. "The fact that a welding failure could have occurred at 9.40am when the temperatures are a bit over 30 degree Celsius is a worry. If it is not temperature, the only other thing we are looking at is poor maintenance due to lack of time," said the official.
As reported by dna in its Monday edition, the tracks all over Mumbai — on both CR and WR — are taking a pounding thanks to the high number of trains being run on them. The train-running spree to achieve very stiff passenger earnings targets is not giving much of a chance for maintenance, which in turn might be leading to such mishaps, said officials.
"We have to find out if the track had grown old or if it had completed carrying the load it was stipulated to carry during its lifetime. It's not a good sign for the railways in the city," said an official.
All eyes are now on the mandatory inquiry that will be carried out by Commissioner of Railway Safety (Central Circle) Chetan Bakshi. "CRS inquiries in the past have been able to unravel very uncomfortable truths which have gone a long way in enhancing safety of the network. We hope that is the case this time around as well," said the official.