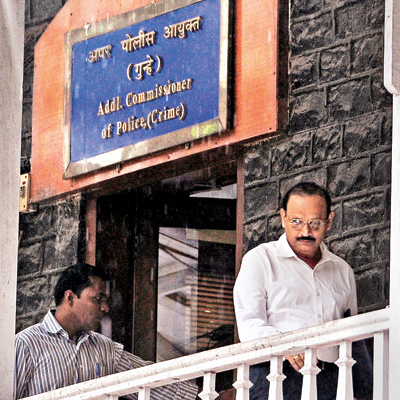 The statement of deputy inspector general (DIG) of police Sunil Paraskar, who has been accused by a model of having raped her, was recorded in the Mumbai police HQ on Monday in front of three fellow police officers.
According to sources, Paraskar, in his statement, has admitted to knowing the victim and travelling along with her to the two places mentioned in the FIR. He, however, had denied the allegations of rape brought up against him by the victim, sources said.
The Mumbai crime branch, which is investigating the case, recorded his statement for almost four hours, and this was done in front of deputy commissioner of police (DCP) KMM Prasanna, DCP Sharda Raut and assistant commissioner of police (ACP) Kala Gavit.
According to sources in Mumbai Crime branch, Paraskar, in his statement, has told the police that he knew the victim as she had registered three cases in police stations under his jurisdiction when he was posted as additional commissioner of police, North Region, Mumbai City.
He also revealed that he had accompanied the victim to Madh Island. The purpose of the visit was to help the victim get a bungalow for a photo-shoot. And according to Paraskar he accompanied the victim to a flat in Navi Mumbai as mentioned in the FIR filed against him, but the purpose of the visit was to get the victim a flat on rent.
The senior police officer categorically refuted the allegation of rape and molestation levelled against him by the victim.
Joint commissioner of police Sadananad Date said: "We recorded Paraskar's statement on Monday. We will also be procuring details of SMSs, emails and phone calls between Paraskar and the victim."
"During the course of investigation if the need arises, we will record a supplementary statement. We have been able to identify the two places mentioned by the victim and have also got witnesses, who stated that both Paraskar and the victim were seen together at those places," Date said.
Meanwhile, the Mumbai police have sent a preliminary report on the case to the office of the director general of police (DGP) on July 25. According to a source, DGP Sanjeev Dayal has informed the state home department about the case. "The home minister has been briefed about the issue and in case the findings of the investigations go against Paraskar, action could be taken against him," said a senior police officer on condition of anonymity.