Study by city nutritionist finds kidney beans can check your blood sugar levels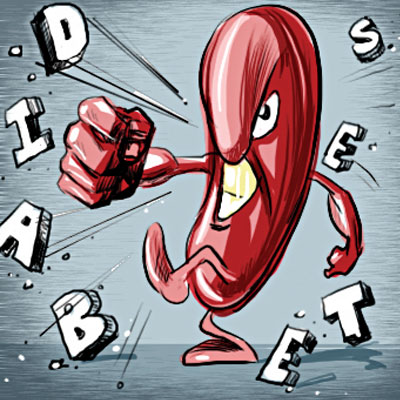 An apple a day keeps the doctor away. Eating rajma (kidney beans) every day can keep your blood sugar levels under check.
So says a new study by a city nutritionist, which was published in a booklet of the American Diabetes Association recently.
As part of the study, 60 pre-diabetic patients (impaired glucose tolerance where your blood glucose is raised beyond the normal range, but not so high that you have diabetes) were divided in two groups.
While one group was asked to have rajma at least once a day for a month, the other was allowed to have regular diet.
"Rajma is known to have blood glucose-lowering characteristics and is also high in fibre and protein. We decided to monitor these patients and ascertain the results," said Dr Shilpa Joshi, the Bandra-based nutritionist who led the study.
"Though we didn't ask them to have rajma at a particular time, we asked them to replace their evening snacks with rajma khakras," she said.
After a month, their fasting and post-prandial blood sugar and cholesterol levels were very much under control, compared to the other group.
"In our study, the daily intake of rajma has shown to keep blood sugar and cholesterol levels under control in pre-diabetic patients. From my clinical experience, I am sure that including rajma in the daily diet of diabetic patients will give good results in controlling blood-sugar levels. Indian diet is very rich in protein," Dr Joshi told dna.
The nutritionist now plans to conduct the rajma study on a wider scale, involving a sizeable number of people. "This was a small group. We will now experiment it on a larger population and try out other pulses like chana," Dr Joshi said.
Doctors say that simple lifestyle changes can help many pre-diabetic patients. Sometime back, Dr Hemraj Chandalia, Research society for the study of diabetes in India, in his study with pre-diabetic patients, showed that yoga and methi can help avoid diabetes, in case you are in a high risk group.
The pilot study conducted by Chandalia demonstrated that early intervention with methi powder and yoga in patients with impaired glucose tolerance (IGT) can significantly reduce the number of those patients who subsequently develop type 2 diabetes.
Currently, India has 62 million diabetic patients. Out of this, more than 50% are in the economically productive age group of 35-55.