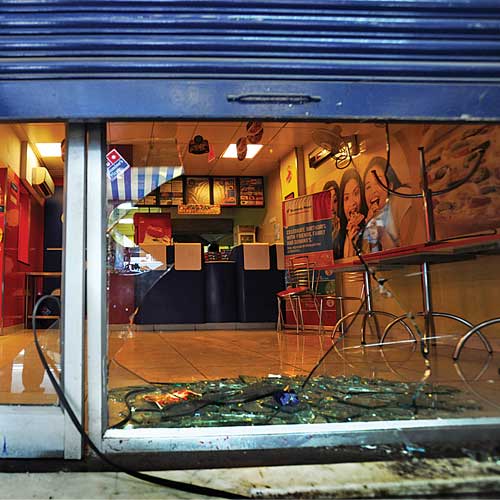 Protests against the arrest in the US of Indian diplomat Devyani Khobragade turned violent on Friday when a group attacked and damaged a Domino's Pizza outlet in suburban Mumbai's Bandra (East) area.
The Kherwadi police have registered a case of rioting and causing damage to property against unidentified persons, who are believed to belong to the Republican Party of India (RPI) headed by Ramdas Athawale.
The protestors apparently fled from the spot. No arrests were made till late on Friday night, the police said. No one was hurt in the attack.
According to eyewitnesses, the protestors gathered outside the pizza outlet, which is near Chetana college, a little after noon, waving blue RPI flags and shouting slogans criticizing the US. They also requested people not to patronize American products.
Devyani belongs to the Dalit community in which the RPI has its origins. Her father, Uttam Khobragade, is a civil servant.
From the information gathered by the police some of the protestors hurled paver blocks shattering glass doors of the outlet. "The vandals scooted before we got to the spot," said a police officer.
Asked why the RPI was indulging in such violence on the matter, the party president described the incident as a spontaneous outburst against the barbaric treatment meted out to the Indian diplomat.
"The US has insulted us and therefore this incident has taken place. The RPI activists have only expressed their anger. But I have asked them to carry on with their protests in a peaceful manner," Athawale said.
There have been scattered protests in the country over the arrest and subsequent strip search of the Indian diplomat for visa fraud and under-payment of her housekeeper.
"We have registered a case of rioting on the basis of a complaint made by the outlet's manager, Sarfaraz Shaikh. We are trying to get details of the suspects and will arrest them soon. The outlet had no CCTV camera," Ashok Kadam, senior police inspector, said.
Over the past couple of days, the security in Bandra (East) where the incident happened has been heightened ahead of the scheduled public rally to be addressed by Narendra Modi, the BJP's prime ministerial candidate.