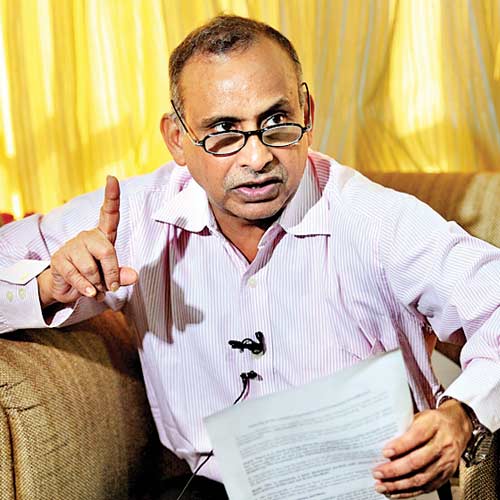 Retired IAS officer Uttam Khobragade on Thursday threatened to launch a hunger strike if justice was not done to his daughter and Indian diplomat in New York, Devyani. The former bureaucrat demanded withdrawal of all charges against his daughter, who was arrested last week before being released on bail.
The diplomat has been accused of giving fake papers to obtain visa for her domestic help Sangeeta Richard and also of not paying her wages as stipulated by US Laws.
Speaking to mediapersons, Khobragade said Devyani was subjected to the worst form of humiliation, referring to strip search and cavity search, and he would not tolerate it. "The US authorities must not only apologise but also drop all false charges against Devyani."
Khobragade said the matter has now turned into a political fight. "Prime minister Manmohan Singh should talk to US president Barack Obama and resolve the issue as early as possible. If nothing happens, I will sit on fast-unto-death," Khobragade threatened.
On the allegations against his daughter, Khobragade said Sangeeta had filled the visa form and appeared for interview twice. "It was Sangeeta who had signed the declaration that she would be responsible for all the information provided in the visa form. They are saying Devyani had agreed to pay $4500 to Sangeeta per month. However, it was not in the contract (between Devyani and Sangeeta). The figure pertained to Devyani's salary, which was asked in the visa form," he said.
Terming Devyani's arrest part of a larger conspiracy, Khobragade said the US government, which does not give visa easily to a person, facilitated travel of Philip, Sangeeta's husband, to America in a short period.
Khobragade said the charges against Devyani are false and fabricated. "Attorney Preet Bharara said the Indian court (which had stayed any action against Devyani) might have silenced the witness and hence Philip was brought to the US. It is an attack on the Indian judiciary."