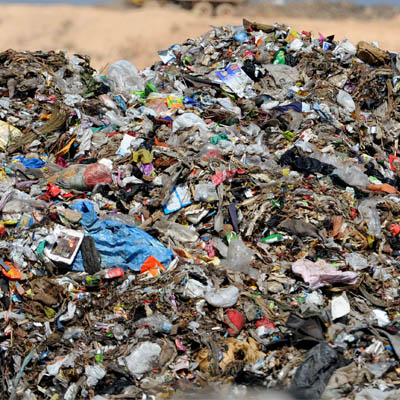 The piles of garbage at the Deonar dumping are growing so high that this is compromising the safety of aircraft flying in or out of the city airport, which is barely 10km away.
What is the danger?
Airport sources say these piles that rise to as high as a 20-storey building are constantly attracting birds that obviously fly about at still higher levels, frequently getting into the path of aircraft.
This has become a matter of serious concern and was raised with the civic authorities by the Mumbai International Airport Ltd (MIAL), which manages the airport. MIAL also conveyed its concern to the civil aviation ministry at a meeting recently.
Civil aviation minister Ashok Gajapathi Raju could not be reached for a comment.
What's happening at the dump?
"With each passing day the height of the garbage piles are increasing and as a consequence we find that more and more birds are flying about at higher altitudes," said an airport source, who is involved with the matter.
More than 6,000 tonnes of waste is dumped daily at the Deonar garbage pit, which is located in the eastern suburbs. It is the city's oldest dump and has existed since 1920.
What does rule book say?
Under the aviation rules the area within a radius of 10km from the airport (also called the funnel area) must be kept sterile, that is free of any tall structures, or markets dealing in fish, poultry or meat, and garbage dumps.
In fact, the permission of the Airport Authority of India (AAI) and the airport authority is necessary before any structure is set up within the funnel area.
Who is responsible?
It appears that the Municipal Corporation of Greater Mumbai (MCGM), which is responsible for managing the garbage, is unconcerned about the growing problem and the consequent dangers.
dna found out that the garbage piles have been growing at an alarming rate because the processing through composting has been hampered as land required for this purpose has not been made available.
In 2011, Tatva Global Environment Limited (TGEL) was appointed as a concessionaire by MCGM with the task of receiving 2,000 tonnes of waste daily and processing this through composting. The civic body was supposed to lease about 160 hectares to TGEL for this purpose.
What is BMC's response?
But TGEL has not been given the land and as a result TGEL has been able to only receive the waste and spread it at the dump, but
not process and dispose of it.
"MCGM was supposed to provide the land on lease for processing of waste, but this is still anticipated. In the absence of the land lease, the waste is being scientifically landfilled," said a TGEL official.
RM Solanki, chief engineer, solid waste management department, and SVR Srinivas, additional municipal commissioner, did not respond to calls.