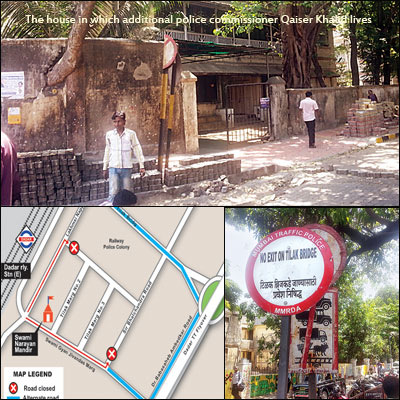 Dadar residents are up in arms against the "arbitrary" changes the traffic police made in their area a fortnight ago. They have been denied entry into two important roads—Sir Bhalchandra Road and Tilak Colony Road—that lead to Tilak Bridge in Dadar-East. And because of this, motorists heading to Tilak Bridge now have to take a detour along Babasaheb Ambedkar Road, which is perennially jammed.
People in the area allege that the changes were made because additional police commissioner Qaiser Khalid, who lives in the police quarters on Sir Bhalchandra Road, wants the noise level near his house reduced.
Khalid, however, denied this. "I have been living here for the past five years. Noise is not the issue," he told dna on Tuesday.
Residents, however, insist the change had been brought about only after Khalid had been transferred to the traffic department. He was earlier the additional commissioner in charge of the eastern suburbs.
Denying them entry to Sir Bhalchandra Road from near Midtown Pritam Hotel to Tilak Bridge is very inconvenient to motorists, who usually take this road to avoid the traffic jam on the arterial Babasaheb Ambedkar Road as well as to bypass two signals.
A motorist coming along Lakhamsi Napoo Road from Matunga, who wants to reach Tilak Bridge to proceed towards Plaza Cinema, now has to drive straight to Swaminarayan Temple, take a left turn, again turn left at the signal in front of Star of Cochin hotel, head towards Dadar TT and then turn left once again to reach Tilak Bridge. Till recently, he could just turn left at Tilak Colony Road and turn left again onto Sir Bhalchandra Road to reach Tilak Bridge.
Affected citizens have taken up the issue claiming that taking the new route would force them into perennial traffic jams and they would have to waste at least 15 minutes more on Babasaheb Ambedkar Road.
"We will not only have to waste time, but also fuel. The traffic department cannot take such arbitrary decisions," said Mahesh Surve, an activist.
Sanjay Dastane, a resident, said: "We have been using this route for several years. How can traffic authorities simply shut the road one fine day without bothering about the plight of motorists?"
Khalid, however, claimed the decision was "not taken overnight". The notification was issued a fortnight ago and due legal process was followed.
"We have received complaints from over 200 locals. Our primary concern was the danger posed to pedestrians, specially during peak hours. Motorists from the north and south converge on this stretch creating havoc," he added.
He also said joint police commissioner (traffic) BK Upadhyay had made an on-the-spot assessment before the notification was issued.