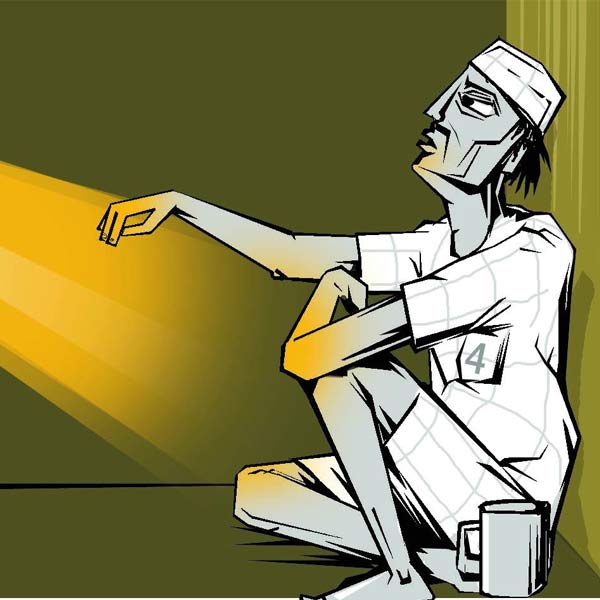 With 34 deaths in 2013 and the number already crossing 15 till April this year, the increase in death rate of inmates in Asia's biggest prison, Tihar, has become a cause of concern for officials. Usually the average death rate of inmates in Tihar remains around two to three deaths a year, except the cases of death sentences.
But in the last one-and-a-half years, this trend has seen an unprecedented change and death rate inside the jail premises has increased by a whopping 100 per cent. In the last week of April this year, five deaths were recorded.
Since January this year, 15 inmates have died out of whom, one, Rajvender, 40, an under-trial was murdered by inmates and the other, Vishal, 27, was found hanging from the ceiling. In 2012, the number of total deaths in Tihar was 18 whereas in 2013 this number climbed to 36, if we include two death penalties, one of which was given to Parliament House attack mastermind Afzal Guru. "Certainly, this is worrying figure.
But majority of deaths have occurred from natural causes and the biggest reason for this is that majority of inmates coming to jail have serious ailments in advance which result in deterioration of their health in jail's tough conditions.
But still we need to see the causes of rise in the death rate," said Sunil Gupta, a senior Tihar official. Both Rajvender, who was murdered by inmates, and Vishal, who was found hanging from ceiling, were under trial on murder charges. This is not the first time inmates have murdered a fellow inmate, last year a prisoner named Javed had lost his life in a brawl between the inmates. Javed was serving his seven-year jail term in a dacoity case.
Tihar often boasts of having CCTV cameras in place and so what are the reasons that each time any prisoner dies, CCTV cameras don't catch anything. "Actually the installation of CCTV cameras hasn't finished yet. Tihar needs around 400 cameras across its premises, and till now only 250 cameras have been put in place. We will soon finish the work. As far as deaths in April are concerned, a majority of them were natural," added Gupta.
Apart from Rajvender and Vishal, last month, one woman was found dead in jail number 6 whereas two male inmates were found dead in jail number 4. A metropolitan magistrate is conducting an inquiry into these deaths. Till now, no inquiry has been completed yet.
Suicide and brawl between the inmates are the two major reasons apart from the other natural causes of death. According to statistics, in the last 10 years, 22 inmates have committed suicide, including Ram Singh who is one of the accused in December 16 rape case. News of inmates carrying weapons like blade and knife have often surfaced and top officials don't hesitate in denying that the jail staff often plays a main role in providing these things to inmates. 17 officials were suspended by the jail authorities following allegations of corruption in 2013. Inquiry against 35 corrupt officials was also initiated last year. "18 blades were recovered from inmates in 2013. Majority of those inmates dying is under-trials and hence we are trying to curtail the rate of under-trials inside the jail," said the official.
Second biggest reason given by jail authorities was the increasing number of inmates in the jail.
"The jail's capacity is around six thousand inmates, but we usually have around 12 thousand inmates which mean the facilities meant for one inmate have to be shared by two. In the last one year, this number reached to almost 15 thousand which is way beyond jail's capacity, so the infrastructure is under pressure which sometimes become a bone of contention between inmates which results in brawls," added another source in jail.