Family blames doctor of Atharva hospital; doctor says patient's kin had given permission to remove ventilator.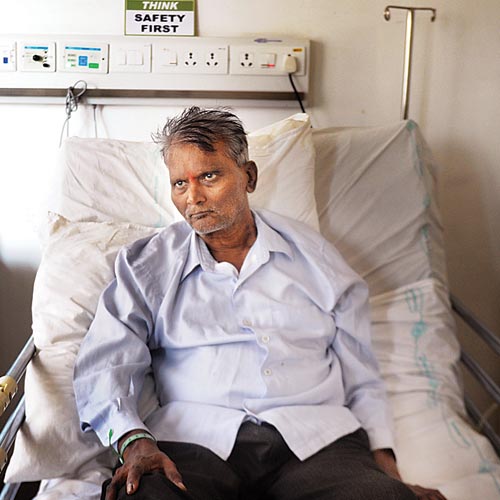 Twenty-four days after being allegedly declared dead by a hospital, Chandrakant Gangurde, 59, returned home on Monday to celebrate New Year with family. The Dharavi resident had been admitted to Atharva hospital in Sion on December 5 after a brain haemorrhage and, later, had allegedly been declared dead by a doctor there. The family then registered a case of medical negligence and shifted him to Kohinoor hospital in Kurla.
Dr Sunil Jadhav, intensivist at Kohinoor hospital, said, "When Chandrakant was brought to us, he wasn't on ventilator, but he had breathing problem. Due to the haemorrhage, his left side is paralysed and there is significant damage to the brain that is irreversible."
Jadhav added that Chandrakant was kept on anti-edema drugs to ensure there is no further damage to the brain. "He now requires good nursing care. It will be difficult to comment on how much time he will take to come out of the paralysis," he said.
Jadhav, however, refused to comment on the treatment given to Chandrakant at Atharva hospital.
According to Chandrakant's son Atul, on December 10, Dr Atul Chirmude of Atharva hospital called the family and said he is 95% dead. "He told us it's just a matter of time and, once the ventilator is removed, he can be officially pronounced dead," said Atul.
However, in the morning, when the family and relatives gathered at the hospital, they found Chandrakant breathing on his own. "We were taken aback... that's when we decided to shift him to another hospital. We later registered a police complaint against the hospital for being negligent," said Atul.
Atul, who runs a stationary shop in Dharavi, said, "It's been a roller-coaster ride for the family. On December 10, we thought we had lost him, but today, we are in a mood to celebrate." He added that the doctors have suggested extensive physiotherapy for his recovery.
Atul said the family is concentrating on Chandrakant's health but will leave no stone unturned to punish Chirmude.
The Sion police had registered a complaint against Chirmude under sections 336 (act endangering life or personal safety of others) and 287 (negligent conduct with respect to machinery) of the Indian Penal Code. He was arrested immediately and produced in court the next day.
Investigating officer Vinod Randive said, "Dr Chirmude is out on bail. We will submit the charge sheet within a week or two."
However, Chirmude said he has been falsely implicated as the relatives had given written permission to remove the ventilator. "They had taken discharge against medical advice. The case is sub judice and it won't be right to comment on it," he added.