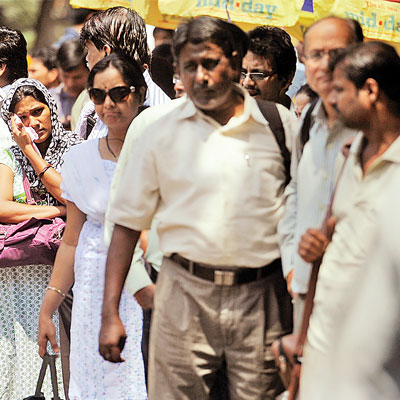 On Day 2 of the strike by BEST drivers and conductors to protest against the new computerised scheduling system, students had a tough time reaching their schools and colleges. Several were scheduled to take exams on Wednesday.
"Fortunately, we had cancelled exams for the lower classes due to election training. Also, parents and students were better prepared today. However, students had a tough time reaching schools in the heavy traffic," said Prashant Redij, Hilda Castelino Marathi High School, Kandivli. Several students also reached late at Shishuvan School in Matunga and Children's Academy in Kandivli, among others.
At some other schools, the election duty assigned to teachers added to the troubles. "Some children were late and the teachers could not reach the school in time. So, we had to manage the exam scheduled for the morning with the staff available on campus. Another problem was that the teachers had to go for election training today as well," said Anjana Prakash, principal, Hansraj Morarji Public School, Andheri.
The situation was similar among college students, who had to leave way ahead of time to reach their exam centres on time. "Looking at the situation yesterday, we left from home an hour earlier than what we would have on a regular day. We had to wait in long queues and got a taxi after more than 20 minutes," said Neha Brahmabhatt, a TYBCom student from Bandra.
"We had anticipated that students might come late. The university had instructed us to accommodate those who arrived late and even those who were not from our centre. We had made necessary arrangements for the same but did not receive any such cases, probably because students were better prepared today," said Madhavi Pethe, principal, Dhanukar College, Vile Parle.