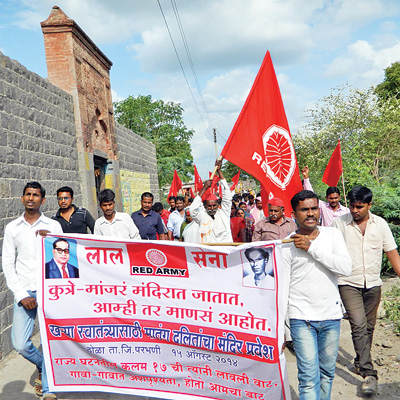 District authorities swung into action after dna's front-page report on the caste-based discrimination faced by the Dalits of Thhole village in Parbhani. The 68th Independence Day, saw Dalits lead a satyagraha for what they called 'another fight for freedom'. Amid heavy police bandobast, they marched into the local Hanuman temple.
"This is a victory for the community," said Ganpat Bhise, whose Samajik Nyay Andolan led the march. "The issue is not only access to temples, grocery shops, primary health-care centres, etc. This is about dignity and acceptance as fellow human beings and we know that struggle will have to continue."
Echoing him, Angad Uphade, 28, said, "We can get access under the watchful eyes of the police but access does not mean acceptance. For that we will have to hope for a change in the way the upper castes look at us." He hoped that the withdrawal of police forces wouldn't lead to a backlash.
Unwilling to take chances, Parbhani district collector Sachindra Pratap Singh had asked the superintendent of police to himself be present at the time when the marchers entered the temple. In the beginning, some upper caste youth did gather near the temple but the police soon dispersed them with a warning, ensuring a peaceful entry by the Dalits.