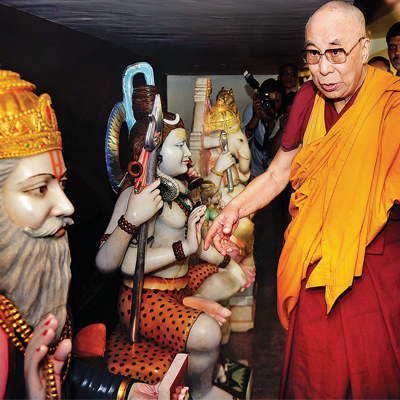 Three different institutes offering religious courses – Buddhism, Jainism and Sanskritipeetham – in Somaiya College will now come under one roof called 'Sanskrit Centre'.
His Holiness the 14th Dalai Lama will lay the foundation stone of 'Sanskriti Centre' on June 2. The Dalai Lama will also inaugurate a school in the campus on Saturday.
The institutes for religious studies like Buddhism, Jainism and Sanskritipeetham that were being provided in different places in the campus will now come under one roof. The Bharatiya Sanskritipeetham provides courses like BA, MA in Yoga Shashtra. However, there are 13-14 courses that are autonomous also.
Teachings by Dalai Lama on "Living, Loving, Laughing and Dying: The Buddhist Way" at Somaiya Vidyavihar will be held from May 30 to June 2.
Dr Kala Acharya, director of KJ Somaiya Bharatiya Sanskritipeetham, said, "There are 500 students enrolled in Bharatiya Sanskritipeetham, Buddhist and Jainism courses. Looking at the increasing demand in learning religious courses, our trust has decided to give us more space where all three courses can be provided under one roof. Students want to know our ancient culture, so we run some autonomous courses also. The Sanskriti Centre will have bigger library, a shrine hall and centre for community activity. Under this, students can get certified courses, diploma courses and PhD courses. Universal values are missing in today's scenario and that is the reason we need to come up with such courses where we impart knowledge about ancient values, understand our religion and prayers we do. We have 25 students from Iran that have come for Ph.D specialized course in Hinduism."
There are lots more things Sanskriti Centre have planned to come up with like course on Bhagwad Geeta where the student will be taught on management based on Indian values. There will be one paper for one semester. For it minimum eligibility to do the course is Higher School Certificate (HSC) pass.
Dr. Lalita Nam Joshi, Principal of Bharatiya Sanskritipeetham, said, "We are preparing a dictionary for Hindu-Christian dialogues. This will be first of its kind. This dictionary will put some light between the similarities between the two religions."