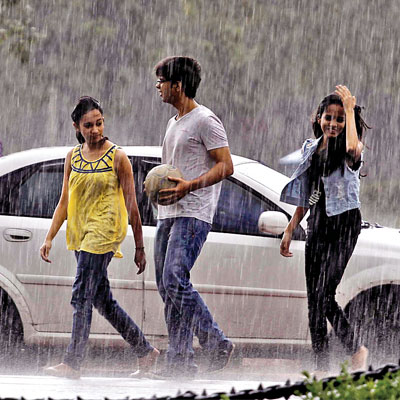 The southwest monsoon has merely entered the coastal areas of Konkan in Maharashtra and just when the rest of Maharashtra is expecting monsoon rain, the Nanauk cyclone in the Arabian Sea is expected to interrupt the advancement of the monsoon.
According to experts, the cyclone is extracting moisture, brought by the monsoon, due to which less rain is expected in some parts of the state in this month.
After a delay of nearly a week, the southwest monsoon arrived in Kerala last week. However, as the conditions were not favourable for further advancement, it took brief halt in Kerala and advanced towards parts of Maharashtra only in the last couple of days. On Wednesday, the monsoon entered parts of south Konkan and Goa, but it could not made further advancement as the Nanauk cyclone gained strength.
An official at the Indian Meteorology Department said: "The cyclone is still very strong and it is persisting in the Arabian sea. On Thursday, the cyclone moved towards Oman. As the cyclone is still persisting in the Arabian sea, the conditions are not favourable for the further advancement of the monsoon."
Predicting further progress of the monsoon, the official said, "The cyclone is moving towards north west region which is away from the country. After it moves further towards north west, the conditions will again become favourable for advancement of the monsoon."
Senior scientist Dr JR Kulkarni from the Indian Institute of Tropical Meteorology told dna: "The position of the cyclone is very important. If cyclone Nanauk would have been along the coastline, it would have resulted in a good amount of rain along the coastal areas and in some interior parts of the country as well. However, the cyclone is moving in a north west direction, towards Oman, which is likely to have an adverse effect on the rainfall activity."