Radhee Disaster and Education Foundation and the Traffic Police will put up banners at 52 spots in the city carrying the message that vehicles in front of an ambulance at a red signal can move to allow the emergency vehicle to proceed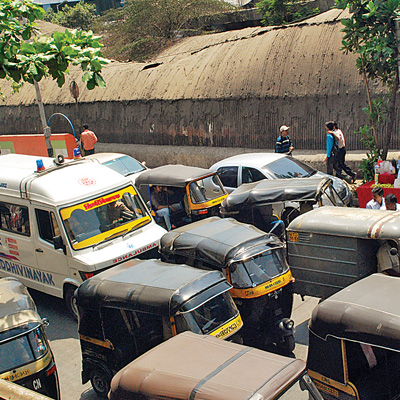 With the perpetual traffic jams in the city, one keeps wondering how ambulances with seriously-ill patients would reach hospitals before it's too late. Not many know that ambulances, which come under emergency services, can break signals and even be driven through the wrong side. So, the next time you are waiting at the signal and an ambulance is behind you, don't think twice before breaking the signal to allow the ambulance to proceed.
People are afraid to break red signal because they fear being fined. What they do not know is that it's completely legal to break the signal if an emergency vehicle is behind you.
Dr BK Upadhyay, joint commissioner of police (traffic) said: "It's legal for vehicles stationed in front of an ambulance to break red light. We have held several meetings with hospitals and doctors and told them to inform traffic control or the control room about when an ambulance is to go out so that we can escort it and alert traffic policemen to decongest the way it would be passing. But to date we have not received a single call."
Upadhyay said he has told cops to give preference to ambulances even if the signal has turned red. "Motorists in the green zone can be stopped and the ones at red signal in front of an ambulance can be allowed to move to enable the emergency vehicle to proceed. This can only be done if there are cops around. People on their own do not follow such basic norms," he added.
To make motorists aware of this, Dr Rita Savla, founder director, Radhee Disaster and Education Foundation, has tied up with traffic police and by July 15 banners carrying the message would be put up at 52 spots across Mumbai. "The idea is to make sure people at red signal see these banners, which would remain in these spots for a month. We expect 80% of the motorists see the hoardings."
Savla, who is a private practitioner, said: "It's important that patients, especially accident victims, are brought to hospital at the 'golden hour' so that their life can be saved. We are currently printing the banners."
Radhee Foundation has also requested the Regional Transport Office to include the question (how should drivers react when an emergency vehicle is standing behind their vehicle) in the questioner for getting a learner driving licence.
Dr Kulbhushan Borase, in-charge of ambulance services at Joy Hospital in Chembur, said: "We do not have cardiac ambulance, so we hardly come across such cases. However, in case of an emergency, ambulance drivers are entitled to break the signal or drive in the opposite lane. All ambulance drivers know this."