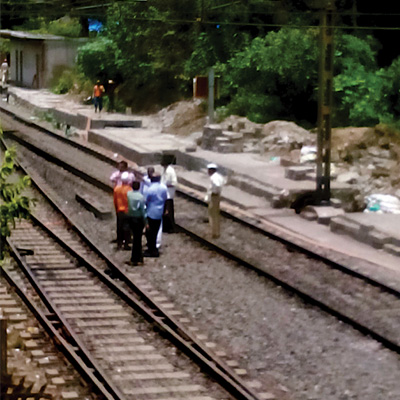 Taking the investigation in the alleged assault and custody death case of Agnello Valdaris ahead, a CBI team conducted a detailed inspection of the scene of the incident at the Wadala station on Saturday. The agency, however, is yet to make any arrests in the case.
A team of six to seven CBI officers, accompanied by Leonard Valdaris, father of the deceased, reached the accident spot around 11am for inspection. For close to four hours, the team held extensive questioning with the local police, the railway police personnel and other small time railway workers present on the spot. After having spent close to two hours in the railway police station, situated at the end of the platform No.2, the team visited the lock-up/detention room situated on the other end of platform No.3, where the deceased Valdaris was allegedly detained, assaulted and tortured for three days.
The team also spent a lot of time examining the railway track on which the police alleged Valdaris died due to an accident when trying to run from their custody. The agency took measurements of the track and video recorded it.
Despite repeated attempts the CBI officers when contacted refused to comment on the likelihood of arrests of the accused personnel, who have been shunted out of the Wadala railway police station.
The CBI so far has named 10 officials in the FIR filed on late Wednesday night. The officials include senior police inspector Jitendra Rathod, assistant police inspector A M Poojari, sub-inspector Tondse, head constable Mane, and four constables Suryavanchshi, Kamble, Pathan, Ganya and Satish. Besides this, the FIR also mentions, 'all of Wadala Railway Police Station' and other unknown officers.
Besides murder and illegal detention the accused persons have also been booked under charges of falsifying evidence, wrongful confinement, using force to get confession, kidnapping, unnatural sex. The accused will also face charges under Protection of Children from Sexual Offences Act, for aggravated penetrative sexual assault on a minor and a few sections of Juvenile Justice and Protection Act.
The investigation in the alleged case of custodial death was transferred to the CBI by the high court early this month. As per the statement of the deceased's father, Agnello Valdaris was killed on April 18 while in the custody of the Wadala railway police. The prime witnesses in the case include two persons and a minor, who were arrested along with Agnello. They have claimed to be witness to torture in custody.