Festival will travel to Thane, Navi Mumbai.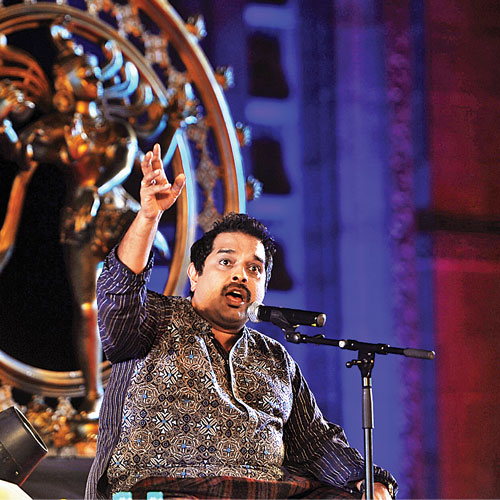 Saptarang 2014 — a unique eight-day-long musical and cultural extravaganza took off with singer-composer Shankar Mahadevan and percussionists A Selvaganesh, Vikku Vinayakram and A Shivamani's 'Southern Express'.
Earlier inaugurating the festival, Maharashtra chief minister Prithviraj Chavan, lauded the cultural department for including all genres. "This is a salute to the martyrs of 26/11, who gave their lives for this city as also to the spirit of Mumbaikars."
In its sixth edition, the festival will also travel to Thane and Navi Mumbai. After a host of programmes under the aegis of Saptarang 2014 at the Gateway of India till January 5, it will move to the Vishnudas Bhave Auditorium in Navi Mumbai on January 6 and 7 and culminate in a finale at the Kashinath Ghanekar Natyagriha in Thane on January 8 and 9.
On Saturday morning, the audience will be enticed by Roopkumar Rathod's sufi music concert 'Sufiana'. In the evening, there will be a musical treat for the youngsters as Reeva & Group will rock the night, this will be followed by a ghazal performance Bhupinder and Mitali Singh.
On Sunday morning, classical music lovers are set to experience spirituality in the form of various ragas rendered by Padmavibhushan Gansaraswati Kishori Amonkar. In the evening, bollywood composers Salim-Suleman promise to get the audience tapping their feet to the rhythm of popular Hindi tunes in Bollywood Bite.
The next day, festival will bear witness to a lifetime achievement ceremony named after noted Tamasha artiste Vithabai Narayangaonkar. This particular award will be presented to Prabha Shivanekar after which various artistes will feature in the Tamasha programme.
Free entry passes for Saptarang 2014, will be available at the following locations Rhythm House, Fort; Maharashtra Watch Company, Dadar; Ravindra Natya Mandir; Prabhadevi, Gadkari Rangayatan, Thane; Vishnudas Bhave Natyagriha Vashi.