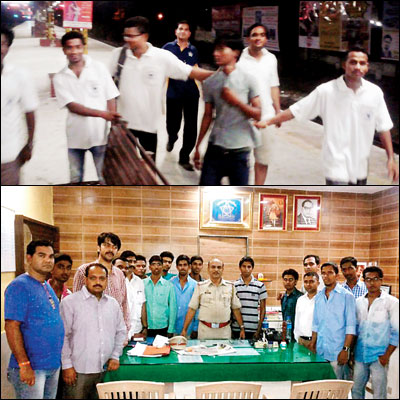 A group of 60 residents, mostly boys, that calls itself the Eagle Brigade, has decided to help the police catch criminals in Thane. Assisting authorities in night-time patrolling, the group's first catch was two boys selling ganja at Kopar railway station on Saturday. The accused have been handed over to the Vishnu Nagar police.
Pleased with their first success, the group members said they will continue with their work and help the police nab more criminals and anti-social elements. "Our main aim was to help the police keep the streets safe. We want residents to feel safe and the police to not be stressed out by their duties. Hence, we decided to patrol from midnight till 3am," said Vishwanath Biwalkar, one of the members.
"We have formed a group of 60 boys in the age group of 20-30 years to keep an eye in the central suburbs."
"As part of this initiative, we managed to nab two boys who were selling drugs at the railway station. Such anti-social elements can be harmful to the society and are a bigger threat for the safety of our women and girls. Hence, it is essential to deal with them," added Biwalkar.
Senior inspector Arjun Rane of Vishnu Nagar police station said, "We need alert residents who will help us nab criminals. It is not always possible for us to be present at such locations and that is when help from citizens benefits to a large extent."
"The patrolling by these young boys will be of great help to us and will help bring down the crime rate in the city. Although it is our duty to keep the city safe and allow these youngsters to have a peaceful night, we appreciate their efforts and alertness," Rane added.