Meet city man Ghogre, the brain behind brainteasers for 200 global publications.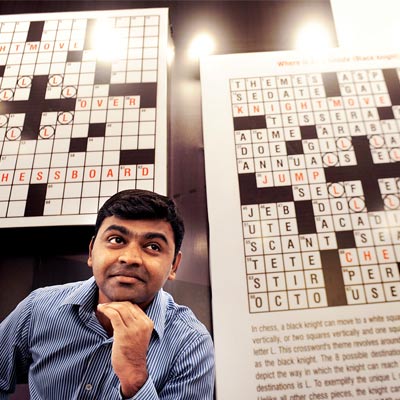 The first time Mangesh Ghogre's crossword was published in the Los Angeles Times (LA Times) it went with his name, Mangesh Mumbaikar Ghogre. He added Mumbai to his name as a tribute. After all, it was travelling on the city's locals over 12 years that gave him time to solve (and get hooked to) crosswords. Ghogre's crosswords have since been published in not just the LA Times but also in the Wall Street Journal and over 200 other newspapers across the world.
For Ghogre, who is an investment banker, creating crosswords is a hobby. And although it's a hobby that doesn't pay too well, it has got Ghogre enough attention. On Wednesday, at the ongoing Kala Ghoda Arts Festival, he will be giving his debut lecture. "I'll share some of my secrets to creating a good crossword," he said.
An exhibition at Artist's Centre, called Between the Lines, features some of Ghogre's works. These include his debut crossword, accepted after 15 rejections, called Themeless. The crossword features two stacks — an answer that runs across the entire grid — that first got people's attention.
Creating a crossword is no mean feat. It usually takes Ghogre six to nine months to complete one. "There are many rules to follow — the design must have symmetry, you cannot have two-letter words, all the answers must be connected to the rest of the grid and so on," he said.
The most difficult aspect for him is coming up with a theme. "There are two types of crosswords, those with themes and those without," said Ghogre, adding that most of his crosswords have themes.
His favourite exhibit (crossword) is the 'Kala Ghoda / Black Knight', which pays tribute to the power of a knight in chess, and its moves, on the crossword grid. Another one is titled 'Maths or English' and features mathematical clues that result in figures of speech. For example, 8 is 'had dinner' (ate), 1 is 'took the gold' (won) and 4 is 'in favour of' (for).
'What's in a name' has Walt Disney, Calvin Coolidge, and Russell Crowe as crossword answers. The three are bound by the fact that the last two alphabets of their name and the first alphabet of their surname are the abbreviations of businesses – LTD, INC and LLC. Then there is the 'Imcomplete Grid' which, on first glance, appears to be incomplete with empty squares at the end of words. Closer inspection reveals that the empty squares are part of the answer. For example, the answer to the clue the protest of '89 is 'Tiananmen Square' and the answer to the clue a healthy diet is 'three square meals'.
Ghogre will be conducting a workshop on crosswords on Wednesday, February 5, at the Artist's Centre in Kala Ghoda from 11.30am to 1pm.