Over 500 cataract surgeries have been cancelled with Dr Lahane not coming to JJ Hospital for the last nine days. The court has restrained him from entering the hospital premises in order to prevent him from tampering with evidence. On Monday, the court granted the doctor permission to attend to his patients in St. George and GT hospitals.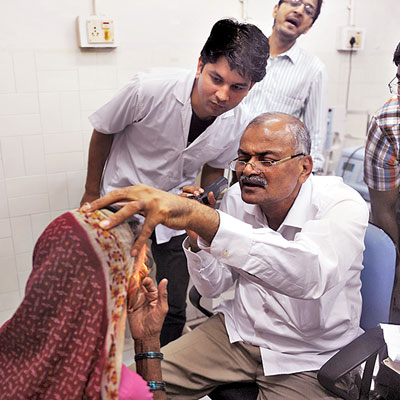 After the session court asked Dr T P Lahane, dean, JJ Group of Hospitals, not to enter the hospital premises, the hospital has had to cancel hundreds of planned cataract surgeries. On Monday, after getting permission from the sessions court, the doctor saw nearly 150 patients at the St George Hospital.
Since February 15, Dr Lahane has not been visiting the ophthalmology department. In the last nine days not much work has taken place in the department. Of these, four days were reserved for surgery.
Dr Lahane used to conduct almost 100 to 150 cataract surgeries every alternate day, as well as see 150 patients in the Outdoor Patient department. JJ Hospital ophthalmology department is one of the most famous ones in the state.
Dr Lahane said: "We have already cancelled more than 500 cataract operations. More than 150 patients had come from different parts of the state had come to see me on Monday. We therefore approached the court to check if we could see patients in St. George's Hospital and after the court permitted I have been seeing them.
The advocate appearing for Dr Lahane, on Monday, approached the sessions court seeking its permission to allow the doctor to attend to patients who had come from far and wide to see him.
Swapna Kode, Dr Lahane's advocate, speaking to dna said: "The court on our last appearance, had refrained Dr Lahane from entering the JJ Hospital premises in order to avoid tampering with evidence or influencing witnesses. It also directed my client not to enter his house located in the hospital premises. Hence, in order to avoid any breach of court's order, we approached the sessions court seeking permission for Dr Lahane to attend to his patients in St. George Hospital and GT Hospital."
"The court after hearing the defense advocate's plea maintained that Dr Lahane could examine his patients in hospitals other than JJ Hospital, added advocate Kode.