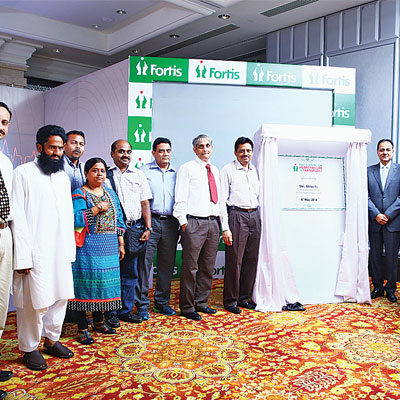 Patients of end-stage heart disease will no longer have to look to the West for succour, as Fortis Healthcare Limited has launched the country's first comprehensive centre for treatment of end-stage heart failure and transplant in its Chennai hospital. While Chennai continues to do the best in terms of heart failure management, doctors say it's because of government encouragement, and that Mumbai would take a long time to achieve the feat.
Speaking at the inaugural function of the centre in Chennai, Dr KR Balakrishnan, director, cardiac science, Fortis Malar, said: "Our cardiac team of doctors have so far performed 16 heart transplants, 35 ECMO (Extra Corporeal Membrane Oxygenation-to stabilize and act as a bridge to Heart Transplants) and 5 Ventricular Assist Device (a bridge to a heart transplant in case it's required later). We have now decided to make it a centre for heart failure management and heart transplant so that awareness is spread and people utilise the facility instead of going abroad and spending more."
Aditya Vij, CEO, Fortis Healthcare Limited said: "Our Chennai hospital will remain the centre for treatment and management of end-stage heart failure and transplant. This has become possible because, unlike in other parts of the country, we get a lot of support from the government here, and there is a well maintained registry and a very dedicated team of doctors."
Heart failure is a major health concern worldwide, including in India. Twenty million people world-wide suffer from heart failure. India witnesses two million new cases every year with at least a third of them requiring advanced therapy. It is also important to note that the mortality rate in heart patients is as high as 30-40% within a year of diagnosis.
In India, the treatment for heart failure is restricted to medical therapy, revascularization therapy (restoration/augmentation of blood supply to the heart), valvular surgeries and cardiac resynchronization (heart pacing) therapy.
Talking about developing the heart failure management sector in Mumbai Fortis Hospital, Vij said inter-centre trainings were on and soon the Mumbai branch too would have at least an artificial heart pump. "Our centres across the country are connected. Management of heart failure patients and heart transplant are a very specialised area and needs lot of expertise and dedicated teams. We are in the process of training and building such teams in our other centres too," said Vij.