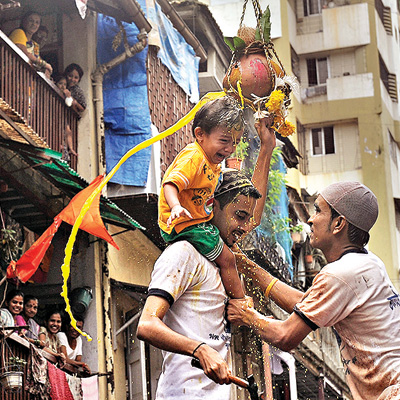 The Dahi Handi festival was celebrated with much fanfare on Monday, but the reasons for which it was in the news lately had little visible effect. After the age controversy which threatened the festival's very existence, and despite the Supreme Court's order barring children under 12 from participating, the rule was poorly implemented.
Across the city, there were little or no checks when children who appeared to be less than 12 years of age were seen forming human pyramids. They were seen climbing up the shoulders of Govindas without their ages being verified. Organisers either warned them, or made sure that they were on safe side and took it in writing from mandals that none of the children participating were under 12.
At Shree Sankalp Pratishthan in Jambori Maidan, Worli, considered to be one of the city's biggest Dahi Handi celebrations, regular announcements to abide by the court order was made, but there seemed to be hardly any checks before the govindas actually formed the human pyramid.
Mandals said that they would be helping police in whatever way they could, and the police was under the impression that mandals or the media would come forward to inform them about anyone breaking the rule. "We will be cancelling prizes if any member of the troupe is found to be under 12. The police will register a first information report and we will be helping them with video clippings," said Sachin Ahir, who organised the Jambori Maidan festival.
But aren't under 12 kids not supposed to be participating in the first place? "We will take action if the mandals or the media informs us about children below 12 participating," said P Choudhury, a sub-inspector with the Worli police station, who was present at the Jambori Maidan.
While checks were an issue, some mandals decided to cut down on tiers only because they did not have kids to climb the pyramid.
"We used to have a seven-tier pyramid till last year, but did had a six-tier one this time. The cash prize is anyway not worth the risk," said Nitin Karaskar, a mandal member.