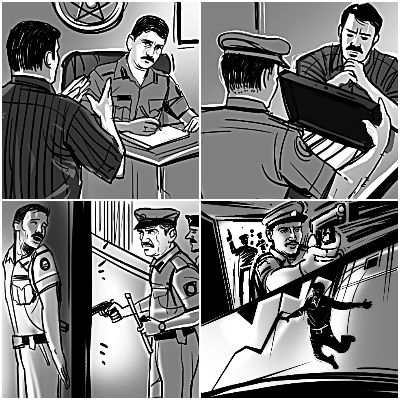 Assistant Police Inspector Subhash Samant would have given an impression that he was chasing a criminal when, in a dramatic manner, he jumped at least 20 feet from his first floor residence in Bandra on Monday night. However, it was Samant who was attempting to flee from a trap laid by the Anti Corruption Bureau (ACB). Samant and a senior cop had allegedly demanded a bribe of Rs 50 lakh from a real estate agent.
According to the ACB, a builder, identified as Vicky Arora, had connived with the cops, attached to Khar police station, to extort money and grab his office space at Arora Towers, 10th Road, Khar (W). The ACB fell short of nabbing the officer while accepting a bribe of Rs20,000 at his residence that was part of the Rs10 lakh installation he had demanded.
After the transaction was done, an ACB official tried to enter his house at the government police quarters. However, Samant managed to lock the door from inside. By the time the ACB sleuths broke open the door, Samant had jumped through the AC window and escaped.
"After verifying the details mentioned by the complainant, we laid a trap on the two officers. Samant called the agent to his residence on Carter Road, with original documents of the office and Rs 10 lakh as first installment. We sent the complainant with Rs20,000," said Additional Commissioner of Police Vishwas Nangre-Patil.
The 44-year-old complainant, a member of political party, told the ACB that he had filed a non-cognisable complaint against Arora in 2009 for forcing him to vacate his office. However, Arora had befriended him recently and taken him to Dahanu for a party. The builder apparently lured the agent with girls and filmed him getting intimate with one of them.
Armed with the clip, Arora colluded with Samant and Nerlekar to trap the agent. The complainant said the cops claimed that he had been shown as an accused in a rape case. They then demanded Rs50 lakh and his office to settle the case, said the complaint.
"Five accused are on the run – Samant, Police Inspector Mahendra Nerlekar, Arora and his two accomplices Mahesh Kamble and Robin Gonsalvis," Patil said.