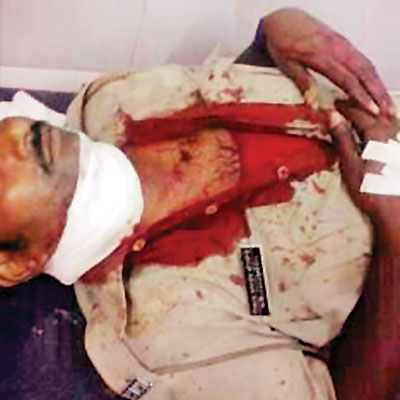 The police constable injured in the Shiv Sena and MNS clash on Wednesday night is on the path of recovery after a five and half hour long surgery, say doctors treating him at Joy Hospital in Chembur.
Ashok Thorbole (38) attached with Trombay police station is in the Intensive Care Unit and will be shifted to a ward within two days. However, doctors informed that he will require hospital stay for a month.
Dr Roy Patankar, the surgeon who did the operation, said: "It took us five and half hours to repair the badly damaged wind pipe and food pipe. He was lucky that he was rushed to the hospital on time. He was attacked by a sharp object and the injury was more than 5-cm deep and wind pipe was cut through."
Presently the doctors have put artificial route to Thorbole lungs to help him breathe and stomach to help him with feeding. "It will take at least three weeks for his wounds to heal after which the artificial routes to his lung and stomach will be removed and he will be able to breathe and eat like a normal person," said Dr Patankar. Doctors informed that Thorbole, who is conscious, has been interacting with his brother and family by writing. "He cant speak because of the artificial tubes. He is communicating by writing on note pads. Once his wounds heal, he will have problem in talking and will require extensive speech therapy," Dr Patankar said.