Storm water drains on Juhu's Revandkar Road being desilted even though reconstruction of the chambers to start in a day or two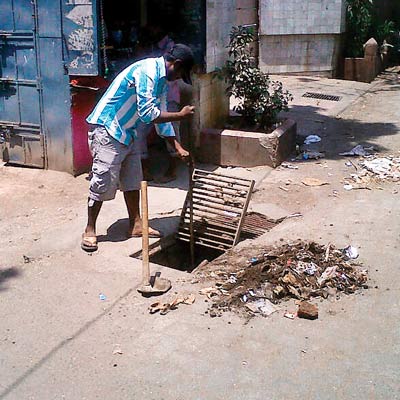 Here's an example of how Brihanmumbai Municipal Corporation (BMC) officials waste public money in the name of various overlapping projects and how their apathetic attitude causes win-win situations for contractors. Revandkar Road in Juhu is the latest example that exposes the contractor-official nexus and reveals complete lack of coordination among civic departments.
The civic body has employed a contractor to clean the Storm Water Department (SWD) chambers on Revandkar Road as a part of pre-monsoon desilting of drains. However, BMC sources revealed that the same road was about to be rebuilt and the storm water drain chambers were to be newly constructed and installed.
"It was surprising for the residents to see the civic contractor cleaning the SWD chambers when they were told that reconstruction of the road will start in a day or two. We are expecting a beautiful new road with new SWD chambers, which will ease water-logging in our area. We are also promised that there will be a small footpath, which can be used by senior citizens and children. Even flower beds could be put to increase the aesthetic value of the area," said Larson Fernandes, civic activist from the area, who has written to the assistant commissioner about the goof-up.
Fernandes said when he asked the contractor why he was cleaning the drains when reconstruction of the road and storm water drains has already been approved, the latter feigned ignorance.
"In fact, reconstruction of the road was supposed to start last week. It is a part of minor projects in western suburbs. Fund has been sanctioned. I even tried to stop the work, but the contractor insisted that he had permissions so he can continue until any civic order comes," said Fernandes.
Laxman Vhatkar, director, Special Engineering, said he would check what caused the confusion. "Such a goof-up should not have happened. If the desilting work has been taken up by the ward, the department concerned should always cross-check with the central agency as information about construction of new roads is always intimated to the ward," said Vhatkar, adding that an inquiry would be initiated into the matter.