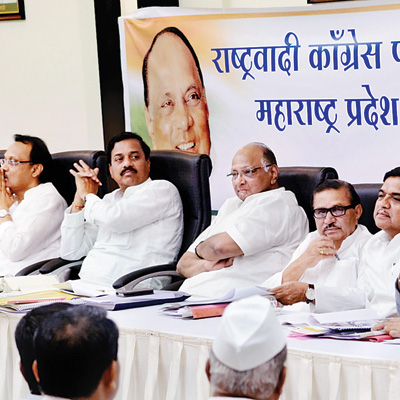 Though the Congress and the Nationalist Congress Party (NCP) are yet to resolve their seat-sharing issues for the state assembly polls, the NCP has started conducting interviews for candidates for all 288 seats.
The move has riled its ruling coalition partner. State Congress chief Manikrao Thakare said, "We sought applications for all 288 seats, but conducted interviews for only 174 constituencies in our quota. We had asked the NCP to take interviews for only 114 seats. And later, once the seat-sharing formula is worked out, we can exchange a few seats here and there. If the NCP has decided to conduct interviews for all seats, then we may also do same by conducting interviews for the remaining seats," he said.
However, state NCP chief Sunil Tatkare told reporters at the party office on Tuesday that though they had invited applications for all 288 seats, they were going to conduct interviews for 144. "We are calling applications for 288 seats just to understand the people's interest and out party base. We also need to check out our strength, there is no harm in that. Once the seat-sharing gets resolved, we are ready do some exchange. But we will contest on 144 seats, not on 117 seats," Tatkare clarified.
A senior Congress leader warned that the NCP should not do anything that will create confusion between the two parties. "We too have a solid base and are ready to go in state polls alone. We received over 4,000 applications for 174 seats while the NCP got barely 1,400. Besides, there is an exodus in NCP. Many dissidents are joining the Sena-BJP including sitting MLAs. On the other hand, the Congress is able to hold its fort. More people are interested in fighting the polls on Congress tickets," he said.
Political observers said that this showed that there was no understanding between the Congress and NCP and they may part ways ahead of the polls. NCP leader Praful Patel had earlier said that if the Congress delayed seat-sharing talks, the NCP would go solo in state polls.
NCP leader and deputy chief minister Ajit Pawar is conducting constituency-wise rallies across the state. Pawar said that the party workers should be ready to fight all 288 seats. "In the Lok Sabha, we won four seats while Congress ended with two. Moreover, in the local body elections, our strength was more than the Congress. So the Congress should amicably accept the 50:50 seat sharing formula and keep the saffron forces at bay so we can form a secular government again," said a senior NCP leader requested anonymity.