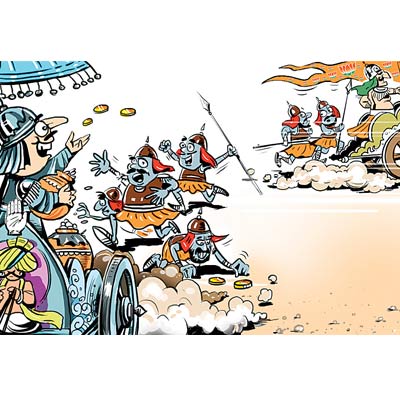 There seems to be more trouble in store for BJP's Lok Sabha candidates in North Maharashtra.
The Congress-NCP heavyweight candidates have systematically silenced several Shiv Sena activists by either bribing them or sending them on summer tours.
Though it has an alliance with the Shiv Sena, the BJP has to fight a lone battle in this region.
Opposition leader and BJP MLA Eknath Khadse's daughter-in-law Raksha Khadse has been nominated by the BJP against NCP candidate Manish Jain, son of NCP Rajya Sabha MP and gold merchant Ishwarlal Jain, in Raver constituency.
In Jalgaon, the BJP had renominated its sitting MP AT Patil against NCP candidate Dr Satish Patil, while Dr Subhas Bhambare, the BJP candidate, is pitched against Congress nominee Amrish Patel in Dhule Lok Sabha constituency.
Senior BJP leader from Jalgaon told dna that they had not expected that Sena activists would have secret tie ups with local Congress and NCP candidates.
"Sena leaders had told us that they have not yet received any order from the party president Uddhav Thackeray to campaign for the BJP candidates. We were fighting election jointly so we expect the Sena will extend their support to our candidates. If it does not happen, then we will surely defeat each other. It will pave the way for the Congress and NCP candidates," he said.
Another BJP activist said most of the active and influential Sena workers had either sent on tours along with their families during the election period or bribed to remain silent. "The Congress and NCP leaders are very good in managing the election due to the money and muscle power. Most of the disgruntled Congress and NCP leaders have been given some promise or the other by their party candidates. A month ago, we were confident of our victory in the Lok Sabha polls. There were Modi wave as well. But the excessive use of money by the Congress and NCP leaders have been erasing the Modi wave," he said, requesting anonymity.
A local BJP leader from Dhule said the Election Commission should check the bank accounts of Sena activists. "They will find out sudden rise in bank balance and savings. Action should be initiated against them. It is bad for the democracy. Stern actions need to be taken," he demanded.
Sharad Patil, Sena MLA from Dhule (rural), admitted that there were some differences between the Sena and BJP workers.
"Our BJP candidate Dr Subhas Bhambare was in the Sena a few days ago. Recently, he switched to the BJP to contest the Lok Sabha polls. He had not yet resigned from our party. There was still confusion over this issue. However, we were sure to iron out these simmering difference at senior level," said Patil.
Chimanrao Patil, another Sena MLA from Jalgaon, told dna that the campaign has not yet started in Jalgaon. "We were still figuring out the strategy. There may be some problem at the ground level. Lets see...," said Patil.
Moreover, Loksangram MLA Anil Gote from Dhule had declared to campaign against BJP candidates. He said that the BJP had promised to give at least three seats to Dhangar community. "But our promise had not been fulfilled. So, we will campaign against the BJP candidates," Gote said.