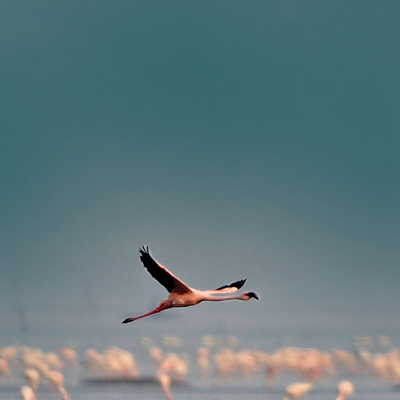 A sea of pink within golden waters mirroring the hue of the setting sun is what you see at Sewri jetty in the evenings these days. The congregation of flamingos — which arrived about two months late this season — makes for a breathtaking sight to behold, aptly considered paradise by birdwatchers all over the city.
The migratory birds which arrived in December instead of October this season are here to stay for almost six months. A survey conducted by the Bombay Natural History Society (BNHS) last week pegs the number of flamingos to be around 25,000. BNHS plans to conduct these bird surveys every 15 days along with its annual flamingo festival, which will be held in March this time.
The Sewri mudflats — one of the top Important Bird Areas (IBA) in the country — along with the Thane creek, consist of over 150 bird species.
But in addition to being polluted by the numerous oil refineries and other industries in the area, the ultimate threat to the mudflats is the Mumbai Trans Harbour Link (MTHL), a proposed sea link connecting Sewri to Navi Mumbai.
"The bridge is designed to run right through this crucial flamingo area which will be lost if it is constructed. All we asked of them was to shift the course of the bridge 600 meters south so that this habitat can be saved," said BNHS avian expert Dr Raju Kasambe.
The mudflats are a very unique ecosystem where the flat coastal terrain allows mud, silt, fish and other creatures to stay back as the tides recede. These shallow wetlands then become excellent feeding grounds for a variety of marine birds, including the endangered Black Headed Ibis, pond heron, egrets, waders and a variety of gulls.
dna accompanied BNHS avian expert Dr Kasambe to the Sewri jetty on Friday where he pointed out the difference between the two types of flamingos that visit Mumbai. "Greater flamingos are about a foot taller with a more pronounced 'S' shaped neck and are a few hundred in number as compared to the more numerous lesser flamingos. The pink colour of the flamingo comes from a particular algae containing pigmentation proteins that gradually infuse colour into the bird as it eats", he said.
Flamingos are mysterious in nature as their migratory pattern and life span is still relatively unknown. It is known that most of them travel from Gujarat, where they breed, but experts are still unsure as to their travel routes, which may even include nearby countries.
"The oldest flamingo was ringed in Africa. He was seen last at the age of 64 years and in good health, so we can't be certain of the life span of a wild flamingo," said Kasambe. "The range of their migration is very vast and uncertain. It needs to be studied in detail to be able to understand the movement and characteristics of the species," he adds. BNHS is considering radio tagging a few flamingos to study their migration and breeding cycles.