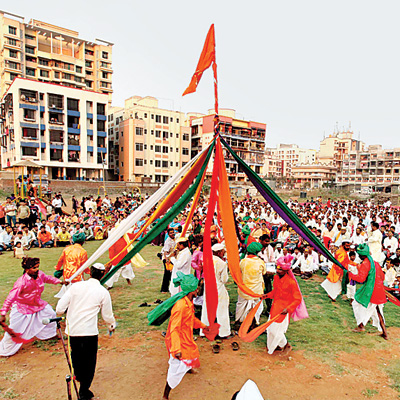 Reservation is passe. What's trending now is 'quota grade-change'.
Look at the Dhangars (shepherds). After the government granted reservation status to the dominant Marathas and Muslims recently, the Dhangars are reiterating their demand for a change in status – from VJNT to the Scheduled Tribe (ST) category.
The Dhangars already enjoy reservation benefits of 3.5% under the VJNT category. But an ST status would fetch them more funds, better educational and employment opportunities and 25 reserved tribal seats.
And they are not the only ones who want change. The Wadars, Kolis and Matangs all want change – Wadars from VJ to ST and Kolis from special backward class to ST.
The Matangs' idea of change is entirely different. They want a separate quota itself as the benefits they enjoy under the SC category "are being appropriated by others."
The Lingayats and Banjaras are also in the queue for change.
At the other end of the spectrum, the Brahmins are pressing for their long-pending demand for reservation on economic grounds.
Then, why not grant reservation to all and sundry and be done with it? It's not so simple.
Every demand gives rise to a counter-demand and each demand meets with opposition, sometimes, within the same community itself.
For example, OBC Muslims object to reservations for Muslims at large as they fear the economically stronger upper-caste Ashraf Muslims will eclipse them.
Similarly, tribals oppose reservation to Dhangars in the ST category. The Dhangars form around 18% of Maharashtra's population -- next only to the Maratha-Kunbi caste cluster (32%) —in the ST category. And they have started retaliating against the protests by the Dhangars.
Surendra Jondhale, professor, department of civics and politics, University of Mumbai, blamed the lopsided development models for the reservation mess.
"There is a phenomena of upward, social and economically mobile demanding reservations... caste assertion can be seen here," he said.
One activist says the government has got the spelling of Dhangars wrong and classified them as Dhangads.
"The Dhangads, a mispronounciation of Dhangars, have been included in the ST category," said Lalit Bandgar, convenor, Mumbai Dhangar Arakshan Kruti Samiti. "Despite this being a six-decade-old demand, it has been neglected," he said.
State sports minister and tribal leader Padmakar Valvi, who met president Pranab Mukherjee with tribal legislators cutting across party lines, opposes this demand.
"Dhangars can be given reservation as a separate category, but not in the ST list," he says. If they are included, other tribals would be deprived of the benefits, he added.
Brahmins (estimated 8-10% of state population) want to form a larger social coalition against the dominant Marathas. The OBC communities, which are upwardly mobile and compete with the Marathas, are supporting the Brahmin demand.
They say reservations are not a garibi hatao programme, and if the socially dominant Marathas can have it, why not the economically weak Brahmins?