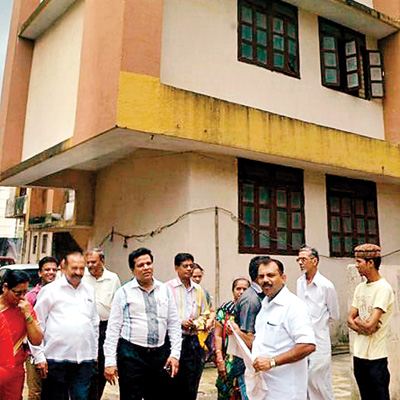 For nearly four years, a municipal school building on a Slum Rehabilitation Authority (SRA) plot in Borivli (East) has been lying vacant, apparently because the developer and SRA officials concerned have not handed it over to the Brihanmumbai Municipal Corporation (BMC).
The school building has two wings, one has six floors, the other five. The building has 24 rooms.
According to Asawari Patil, the local Bharatiya Janata Party corporator, the developer Hari Om Builders had constructed SRA residential buildings and commercial shops on the plot four years ago. "They had constructed the school building at the same time, but it has not been handed over to BMC yet. I have repeatedly followed up with the authorities, but things haven't moved at all," she said, adding that every time she complained, she received assurances that the process would start soon.
"If the school starts, it will help many children staying nearby who have to travel long distances for schools," said Patil.
She informed that bags of construction material were kept on the ground and first floors of both the wings. "How will the school start unless they clear all these materials away?" she asked.
On Wednesday, Patil, along with education committee chairman Vinod Shelar and SRA officials, visited the school, following which Shelar demanded strict action against those responsible for the delay in handing over the school to BMC in a letter to Nirmal Deshmukh, CEO of SRA.
"The developer and officials have not thought about the welfare of the citizens, they have only given thought to their monetary gains. Even though the school building has not been handed over to BMC, the occupancy certificate for the shops constructed was given to the builder. I request strict action to be taken against those responsible for the delay. The OC should be revoked as well," the letter stated.