Cuffe Parade residents brave cold, celebrate in the run-up to Makar Sankranti.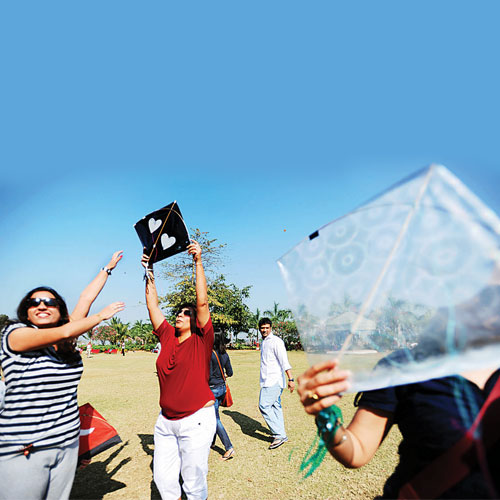 On a cold and bright Sunday morning, the city witnessed its very own kite-flying event, hosted by citizens and members of the Cuffe Parade Residents Association. It was as if three generations of several families were sewn up together by the 'manja' at the park in the locality. The open space, maintained by CPRA, has been declared by the BMC as number one city park.
The event, organised in the run-up to Makar Sankranti, saw a healthy turnout of more than 250. Ashok Kanwar, president of CPRA said, "This is a rare experience for the children of this generation. Such events help children not only learn how to mingle and socialize but also get deeply rooted within the Indian culture of kite flying."
Kanwar said kite-flying sessions allow family members to spend quality and enjoyable moments together. "It truly is a visual and emotional treat to see a father and child struggle to get a kite flying.
Though just a piece of paper, it possesses the incredible power of bringing together generations and people of diverse societies."
The Cuffe Parade resident said people nowadays are so engrossed with their hectic and monotonous life that they tend to forget the joy from the simplest things in life. "With virtual platforms invading in almost every aspect of our lives, today's generation is often seen missing out on the simplest forms of entertainment and adventure enjoyed by our forefathers," Kanwar added.
Speaking about other activities the residents' association undertakes, Jeet Gulati, vice-president of CPRA said, "The BMC has accredited our park as the number one park in all of Mumbai. We have ardent security and appropriate lighting to keep the park well maintained, well lit and open to all."
CPRA secretary general Padmakar Nandekar said, "With events like this and green hubs like our park, we try to instill fresh and positive outlook towards life within the people of both our generation and the younger ones."