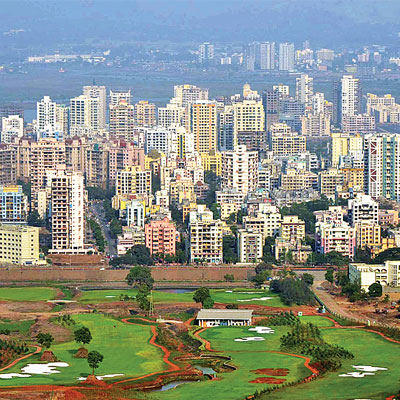 A recent decision by Cidco's board of directors, to give an FSI of 3 for old and dilapidated buildings constructed by the planning agency, will open up new real estate market in the already saturated nodes of Navi Mumbai, believes a section of industry observers.
This view is against the opinion expressed by another section, which dubs this decision of the planning agency as "disastrous" and one which will not be "viable and stand the case in court of law".
The Cidco board of directors, in a meeting on Wednesday, cleared the proposal and sent it to the state government. According the proposal, of the total FSI of 3, 1.5 will be used for constructing flats for original occupants and the rest will be shared between Cidco and the developer appointed by the planning agency after the tendering process.
According to Cidco, "Additional FSI will make more flats available and the developer will have to give certain flats to Cidco which will be allotted under affordable housing. The remaining flats the developer will be able to sell."
An industry expert said, "Extra FSI means that saturated nodes like Vashi, where new construction activity had come to a standstill for want of space, will be revived and more homes will be available, which can lead to a marginal drop in rates. The present per square foot rate in Vashi is Rs15,000, which is likely to drop to Rs12,000 if the proposal gets consent."
The section against this decision, however, isn't too thrilled. "The decision is disastrous and based on an erroneous in-house study. While the Navi Mumbai Municipal Corporation had conducted an impact assessment study through the central government-approved Crisil, Cidco has not carried out any such study before arriving at the figure (FSI of 3). This is the same organisation that had, at one point of time, opposed an FSI of 2 for Navi Mumbai. It is nothing but a ploy to get this matter entangled in the court of law, with, ultimately, the flat user being deprived of a safe dwelling," said advocate Joseph Reddy, who is representing dishoused residents of JN-type buildings in Vashi.
The residents of Cidco-constructed buildings in satellite city have been living under a shadow of fear because no real estate developer is willing to take up redevelopment work due to an FSI of 1 and 1.5 in some places as the project is financially unviable for them.
According to Reddy, "Only flat owners should have the right to appoint a developer of their choice. Even a GR says that 70% people should give their consent for redevelopment; when people have the right, why should Cidco carry out the redevelopment through tendering process? It will only increase corruption within Cidco and residents will be left at its mercy."
Gaothan development
After the decision on cluster development for Thane and Navi Mumbai, gaothans in the satellite city are all set to undergo transformation in a planned manner, if 70% land owners give their consent for the same.
However, there needs to be more clarity on the issue as certain points, such as what will happen to commercial units, are not clear and there is no mention of slums. But there are villages who are opposing cluster development and instead want regularisation of homes that they built out of need since FSI of 4 has been given to gaothans.
Thane guardian minister Ganesh Naik too admitted that there was opposition at some places. "The best we can do is to show those opposing the project a sample project and convince them of the benefits of cluster development. Though Cidco acquired land for development of cities, it left gaothan areas, which grew without any planning, in a haphazard manner, and today the infrastructure is not sufficient to meet the needs of the increasing population. This is where the cluster development plan is important for gaothan areas," he said.
"Otherwise, those opposing the project should take responsibility in case of any loss of life due to building collapse in future."
The guardian minister also said, "As far as Navi Mumbai is concerned, the civic body here has already carried out an impact assessment study through Crisil and, after inviting suggestions and objections, sent the proposal to state government. However, in case of Thane, a similar study needs to be done."