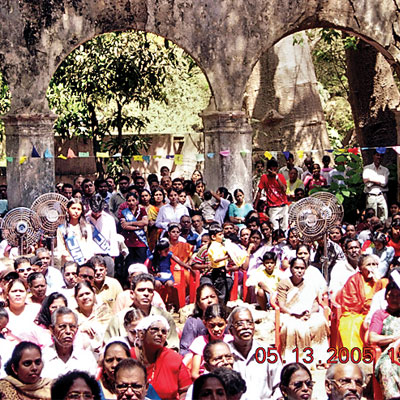 A section of Christians is demanding year-round access to the four centuries-old church, whose ruins lie in the suburban Seepz area of Andheri (East).
On Sunday, many of them will assemble at the site in Kondivita village to pray for their ancestors who lived there, till an outbreak of plague in 1840 led most of them to move to neighbouring Marol.
St John the Baptist Church was erected in 1579 in Condita village, as it was called then. People worshiped here till they were forced to abandon the area and the structure fell into disrepair.
"Till about 1973, mass was celebrated at the site of the ruins in Condita. But this was discontinued after large tracts including the church area was taken over by the MIDC," said Godfrey Pimenta, a resident of the area who plans to move a resolution on the matter.
"The community has raised this issue before, but the church has never really been given to the community," said Nicholas Almeida, a parishioner.
The matter was taken up with the late Sunil Dutt, who was member of Parliament representing the area and also a Union minister. Residents also pursued the case with their MLAs and other MPs, as well as the Centre.
"How can the MIDC say that it is their property," asks Pimenta. "If the government does not grant us access to the church round the year, we will file a PIL."