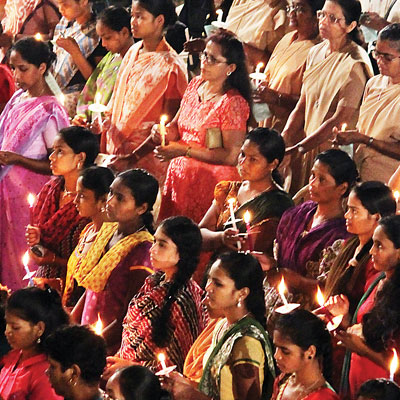 Saturday night saw several like Rita Pinto getting ready to go for the Easter Vigil. A resident of Mount Carmel Road, Pinto went to Church of Our Lady of Mount Carmel in Bandra for it.
As part of Easter Sunday, one of the greatest feasts celebrated by Christians across the world, the vigil is held to keep a watch on the resurrection of Jesus Christ. It is observed after the 40-day lent period, during which Christians abstain from worldly life, followed by prayers on Good Friday, and a day of silence on Saturday.
On Saturday, the other important rituals that take place are service of the light, which is lighting of the candle that reminds one of the resurrection, liturgy of the word, which is reading from scriptures (the old and the new testaments), and liturgy of water, which is blessing the water that is then used for blessing people and home and for baptism. The last thing is the liturgy of the Eucharist.
On Easter day, churches across the city hold special prayer services, and families and relatives make sure they meet each other and distribute goodies. "Morning masses are held in church, where the focal point is renewal of baptismal vows and the blessing people with the Holy water that has been blessed on Saturday," said Fr Nigel Barrett, spokesperson of the Archdiocese of Bombay.
To make sure they make up for the food they have abstained from, families make a number of delicacies on this day. "Besides Easter eggs that we distribute, for family I will be making some pork, mutton and chicken dishes. It will be a meat feast of sorts as we abstain from it during lent," said Sophia Netto, a resident of St Francis Road, Bandra.
Andheri resident Biju Augustine too will be going to a number of places to distribute Easter eggs. "On Sunday, the celebrations are more to do with family and friends. Once you are done with that, you go and visit people who have lost their near and dear ones. Egg is given because it is a celebration of new life," Augustine said.